Home > Places to Stay > Honduras > Roatan
Bananarama Dive and Beach Resort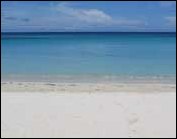 Bananarama Dive and Beach Resort is blessed with turquoise waters, white sand and dense foliage, making it a haven for those looking to escape from the stresses of daily life. With a PADI 5 Star Gold Palm Instructor Development Center, new equipment and highly skilled staff, even the most experienced divers will be impressed while diving the 2nd largest reef in the world. Perfectly placed in the center of West Bay Beach, Bananarama provides the tropical vacation of your dreams.

Whether you are seeking solitude and privacy in one of our garden cabanas, or viewing the sunset from our beachfront rooms, relaxation is eminent. Lie in your hammock, or sip a refreshing beverage on the beach while dipping your feet in the crystal blue water in front of our resort. You'll enjoy clean, comfortable rooms and a superior restaurant and bar. Our attentive staff and fantastic service will make your vacation worry free. All of our guests receive complimentary breakfast, use of our kayaks and beach chairs, and high speed wireless internet onsite Website
Island Pearl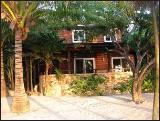 Uncover a little known wonder in the Caribbean, where you can bask in near perfect weather steps from the silken sand. With a small number of intimate villas and a spacious owners villa, Island Pearl provides a serenity undiscovered in Roatan. Canopied by swaying palms, the beauty and intrigue of an Island Pearl visit has always drawn guests who are looking for something more.

The beach front of Island Pearl offers quiet serenity unmatched on West Bay Beach. With only four Beach Villas, Island Pearl provides sanctuary from the ever-growing popularity of Roatan. The lower level of each villa includes a small kitchen / dining area, a 2-twin bedroom, and a bathroom. A roomy queen bedroom and screened reading area occupy the upstairs. The large, main-level patios overlook the beach front garden area and have full or partial views of the ocean. All of our guests enjoy free breakfast, use of the kayaks and beach chairs. Website
Palmetto Bay Plantation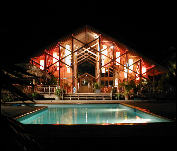 Palmetto Bay Plantation is a natural paradise situated on a sparkling bay, surrounded by a coral reef. Pristine beaches friendly faces and rhythm that allow you to appreciate the natural beauty are your constant companions.

From our white sand beach, you can walk for miles and not encounter "modern civilization". See why so many people have chosen to make Palmetto Bay Plantation their vacation destination and why seven major television shows have filmed programs at our resort including "Temptation Island" on Fox TV. Each Casa has wireless internet.
Telephone: 011-504-991-0811
Website
Roatan Life Vacation Rentals, West Bay Beach, Roatan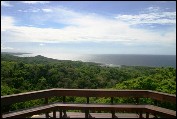 Roatan Life Vacation Rentals is a division of Roatan Life Real Estate, one of the oldest and most respected real estate companies in Roatan. We are a full service vacation rental and property management company with good infrastructure, a large staff and extensive local knowledge. What does that do for you? You have a team of people dedicated to taking the stress away so you can relax and enjoy your time in paradise. Website
Hobbies Hideaway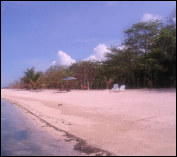 Hobbies Hideaway is located on a half mile stretch of white sand beach, with crystal clear waters in the east Sandy Bay area of Roatan, one of the Honduras Bay Islands on the eastern caribbean. The eastern, most unspoiled area of the Roatan Marine Reserve, with popular dive sites within swimming distance from your beach apartment.

Explore the coral reef and its pristine beauty of underwater corals, fish and flora. Neighboring resorts to the west are affluent Lawson Rock Resort and Anthony's Key Resort. Centrally located between West End and Coxen Hole with banks, atm's, duty free shops, grocery stores and fine Honduran gift shops with island culture.
Website
Luna Beach Resort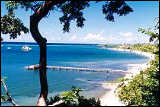 Sunsets at Luna Beach are now even more famous as the backdrop for the romantic liaisons of the filming of Temptation Island 3. With it's spectaclar beaches and emerald bay, Luna Beach was the perfect locale for this steamy show.

Discover the 15-acre Luna Beach Resort, with one of the most beautiful beaches in the Caribbean - East of West Bay Beach. Its sugar-fine white sand and crystal clear turquoise water offer some of the world's finest snorkeling and diving. Get your scuba diving certification, relax on the beach, snorkel the magnificent coral reef, trophy fish or dive... it's all here for you!

What are you waiting for? Grab your fins...paradise awaits! Website
Hotel Reviews: TripAdvisor
Anthony's Key Resort
Hotel Class:


Nestled in the middle of a hillside jungle, it offers guests panoramic views of fiery Caribbean sunsets and a chance to escape from the hectic pace of "civilization".
Hotel Reviews: TripAdvisor

Barefoot Cay
Luxury retreat as well as a first class marina, located just off the south shore of Roatan.
Hotel Reviews: TripAdvisor

Bay Islands Beach Resort
Beachfront resort offering dive, snorkel and vacation packages, including unlimited shore diving and snorkeling in Roatan's famous Spooky Channel, year-round kids camp and accessible rooms.
Hotel Reviews: TripAdvisor

Casa Romeo's
A kind of Relais e Chateaux, Caribbean style Hotel with one of the finest restaurants on the island.

CoCo View Resort
Dedicated dive resort.
Hotel Reviews: TripAdvisor

Executive Inn
Perched on a hill overlooking the beautiful Caribbean.

Fantasy Island Beach Resort
Providing the ultimate in quality and convenience for Roatan diving.
Hotel Reviews: TripAdvisor

Inn of Last Resort
Nestled among the towering trees on a hill overlooking the ocean, 30 large, air-conditioned rooms with private hot-water showers and a tastefully understated decor await you in this wonderful resort.
Hotel Reviews: TripAdvisor

Island Pearl
One must absolutely discover this intimate beach resort with its charm, elegance and art of living.
Hotel Reviews: TripAdvisor

Las Rocas Resort
Tucked away on Roatan's beautiful West Bay Beach, Las Rocas Resort offers the perfect intimate setting for your tropical get-away vacation. Settle into newly completed cabins, unpack your bags, and head for some of the best snorkeling and diving Roatan has to offer just minutes from your front door.
Hotel Reviews: TripAdvisor

Lost Paradise Inn
18 exquisitely built wooden cabins.

Mango Creek Lodge
World Class salt water fly fishing resort.
Hotel Reviews: TripAdvisor

Oak Bay Resort
A small resort located in the Oak Ridge area of Roatan. Diving packages a speciality.

Palmetto Bay Plantation
Located on Roatan's north shore near the village of Craw Fish Rock, four miles from the town of French Harbour.
Hotel Reviews: TripAdvisor

Paya Bay Beach & Dive Resort
A friendly little resort. Restaurant and rooms are nestled among a forest of sea palms and seagrape trees, atop one of the highest cliffs on the island. The views in all directions are spectacular. Guests have access to two beaches right down the slope from their rooms. A mostly unexplored section of the Great Mayan Reef (the second largest barrier reef on the planet) is less than a 100 yards away.
Hotel Reviews: TripAdvisor

Pura Vida Resort
A combination of a first class restaurant, comfortable hotel and PADI Dive Resort.
Hotel Reviews: TripAdvisor

Reef House Resort
A dedicated Dive Hotel located on a Key on the Southeast shore of the Island, a reef flat at the edge of the sea, which allows you to step off the stone pier to snorkel or dive a beautiful coral wall.
Hotel Reviews: TripAdvisor
Casa Carnival
A luxurious, private beachfront home available for vacation rental.

West Bay Village
Luxury Villas and Cottages on Roatan's Beautiful West Bay Beach.
Baan Suerte Cottages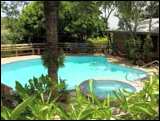 Baan Suerte Cottages offers you a private and secure deluxe hideaway set amidst the lush natural beauty that is Roatan. Along with its private beach, Baan Suerte is also one of the only resorts on Roatan to offer a private swimming pool and jacuzzi.

In a time when paradise is being lost to crowds, Baan Suerte invites you to escape to your own private retreat. You can stroll its lush tropical grounds, bask by its swimming pool, or snorkel off the beach in complete privacy. Yet Baan Suerte is only a short distance from the colorful restaurants and nightlife of Roatan's West End.
Hotel Reviews: TripAdvisor


Casa Calico
Beautiful suite-size rooms overlooking water.
Hotel Reviews: TripAdvisor

Casa de Paradise
Three fine accommodations, offering privacy, comfort and luxury appointments.

Chillies Hotel
Best budget hotel on Roatan.

Georphi's Tropical Hideaway
Nine cabins nestled in amongst the palm and banana trees that populate Roatan.

Mariposa Lodge
Housekeeping units.

Maya Vista Hotel and Restaurant
An ideal place for vacationers seeking a relaxing time in an original and relaxed setting.

Paradise Beach Villas and Apartments
Private beachfront villas and apartments for rent or to buy. A paradise for scuba diving, snorkeling, reefs discovery, deep sea and ocean fly-fishing.

Pinocchios
Small hotel and restaurant.

Posada Arco Iris
Offers brand new apartments and rooms.

Seagrape Plantation Resort
In a secluded, prime location, Seagrape Plantation Resort offers a choice of bungalow style rooms or shared accommodations for those traveling on a limited budget.

Viva Properties
Offers vacation rental homes and condos and property management services for owners.

West Bay Lodge Bed & Breakfast
Comfortable private cabanas.



Places to Stay

General Information
Photo Gallery
Map
Real Estate
Trip Reports
Links
Home