Home > Boutique Hotels
Looking for something a little out of the ordinary? The Caribbean, Mexico and Central America offer some of the finest boutique hotels. Here are our choices.

The Bahamas, Harbour Island


Barbados


Belize, Ambergris Caye


Costa Rica


Dominican Republic


Guatemala


Jamaica


Mexico, Cozumel


Mexico, Isla Mujeres


Mexico, Mexico City


Mexico, Puerto Vallarta


Saba


St. Kitts & Nevis


St. Lucia


Trinidad & Tobago


Turks & Caicos Islands

The Landing
The Landing is a gracious, historic property dating back to 1800. This boutique hotel overlooks the harbour in the heart of Dunmore Town, an easy five minute stroll to the powder fine, pink sand beach.
Hotel Reviews: TripAdvisor
Little Arches
Hotel Class:


Family-owned boutique hotel which is smartly nestled away.
Hotel Reviews: TripAdvisor
Caye Casa, Ambergris Caye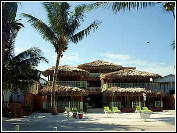 Caye Casa is a boutique hotel - the ideal spot to escape and explore Belize. Located directly on the beach, this unique resort combines modern technology with timeless tropical touches - a sophisticated retreat for the discriminating tourist. Wooden shutters. Stainless steel appliances. Thatch covered porches. Waterfall pool. AC. Cable television. Wireless internet. Personalized service.

Three, two bedroom Villas have spacious living rooms, dining areas, gourmet kitchens and unbelizeable porches. The bedrooms either have one king or one queen sized bed with private tiled bathrooms. There is one villa on each floor.

The Casitas have beach front living rooms with kitchenettes, a separate bedroom with one queen sized bed and tiled bathroom. They are both located on the first floor.
Website.
Alta Hotel
Hotel Class:


Boutique Hotel. A leader among San Jose Costa Rica hotels offering a wide variety of activities designed to pamper its exclusive clientele.
Hotel Reviews: TripAdvisor

Hotel Villa Casa Blanca
Beautiful boutique hotel with Spanish flavor; hillside; overlooking beach; beautiful gardens surrounded with bougainvillea flowers
Hotel Reviews: TripAdvisor

Xandari Resort and Spa
Hotel Class:


Surrounded by acres and acres of coffee and fruit orchards and over 3-kilometers of scenic trails that lead you into lush tropical settings where you will find wild impatiens, ferns, bamboo groves, tropical flowers and a river with five beautiful waterfalls. 16 villas.
Hotel Reviews: TripAdvisor
Sivory Punta Cana
New concept in relaxation.
Hotel Reviews: TripAdvisor
Casa Florencia Hotel, Antigua
Located in Antigua Guatemala, seven blocks from the Central Square (5-10 minutes walk), two blocks from La Merced Church and near sites of interest, internet cafes and coffee shops. All of rooms have a private bathroom (hot/cold water), closet with safety box and luggage rack, cable TV (60 channels). The first floor rooms are bordered by a small garden with lots of green plants and a fountain; while the second story rooms have a balcony with panoramic views of Antigua and three volcanoes in the distance (Agua, Fuego, Acatenango).
Hotel Reviews: TripAdvisor
Hotel Mocking Bird Hill, Port Antonio
Hotel Class:


Caribbean's award winning environmentally friendly boutique hotel with gourmet cuisine. Romantic, peaceful, gracious, comfortable, close to the beach hideway.
Hotel Reviews: TripAdvisor

Moxons Beach Club, Ocho Rios
24 room boutique hotel and restaurant is built on 4 levels cascading down to a private beach flanked by 2 large piers.
Hotel Reviews: TripAdvisor


Vista del Mar Boutique Hotel
Hotel Class:

This boutique hotel is in front of San Miguel bay and you can choose among ocean views rooms or jacuzzi views rooms.
Hotel Reviews: TripAdvisor
Casa de los Suenos
Luxury boutique hotel with only eight rooms.
Hotel Reviews: TripAdvisor

Hotel Secreto
Intimate. Elegant. Tranquil. Hotel Secreto is an oasis of casual luxury within the small fishing village of Isla Mujeres.
Hotel Reviews: TripAdvisor
Casa Vieja
Hotel Class:


A luxury all suites boutique hotel situated in the exclusive area of Polanco, just steps away from well-known museums, galleries, restaurants, high-end international boutiques and the financial center. Once a private residence, Casa Vieja was created with luxury lifestyle in mind and is now considered the most unique boutique Hotel in Mexico City. This beautiful property is decorated with arts and crafts from all over Mexico, and offers full amenities and superb personal service.
Hotel Reviews: TripAdvisor

Condesa Df
Hotel Class:


Four-story boutique hotel is 10 minutes from the Anthropology Museum and 20 minutes from the Historic Center. Guestrooms feature furnished balconies or patios, flat-screen TVs, DVD players, iPods, minibars, and bathrobes.
Hotel Reviews: TripAdvisor

Habita
Hotel Class:


Boutique hotel with sleek atmosphere in trendy Polanco area. Minimalist room design with flat screen TVs and marble bathrooms.
Hotel Reviews: TripAdvisor
Villa Premiere Hotel & Spa
Hotel Class:


Tranquil, adults-only beachfront boutique hotel. Small and intimate with only 83 suites all with ocean view and a full service spa, the Villa Premiere offers a superb location just a few minutes stroll from the heart of Puerto Vallarta.
Hotel Reviews: TripAdvisor
The Gate House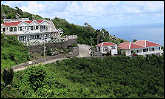 With a commanding view of the ocean and five neighboring islands, amidst tropical plants, the Gate House is your boutique hotel, or hotel de charme," a perfect hideaway with a choice of five bright, spacious, cozy and airy double rooms, a "Love Nest" cottage with private terrace, and a Luxury Villa for up to 8 people with its own private pool. The Gate House offers the best gourmet Restaurant on the island in a very romantic and elegant, yet casual atmosphere.

Saba's premier boutique hotel - A Place with a Soul. AAA Three diamonds award for the restaurant. From US/Canada Toll Free 1-877-456-5198. Website
Montpelier Plantation Inn, Nevis
Hotel Class:


Romantic hideaway located 750 feet above the Caribbean Sea on the island of Nevis. This small luxury hotel has accommodations in 17 newly renovated rooms and is considered to be one of the finest resorts in the Caribbean. The hotel's private beach offers guests complete relaxation while golf at the Four Seasons offers an alternative for the more energetic. The Terrace Restaurant offers fine dining each evening with commanding views of St. Kitts and Nevis.
Hotel Reviews: TripAdvisor

Nisbet Plantation Beach Club, Nevis
Hotel Class:


Gracious ocean-side retreat. Set amidst stately coconut palms, the estate is fringed by white coral sand beach on the island's reef-protected north shore.
Hotel Reviews: TripAdvisor
Ladera Resort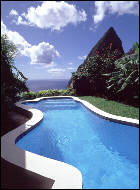 Southern St. Lucia - with its small fishing villages, mountains and valleys carpeted in rainforest -- is commonly described as "the way the Caribbean used to be." Two miles from its sleepy port of Soufriere, up a steep hill over hung with mango trees, lies the most unique resort in the Caribbean

Ladera looks as if it has grown out of the hilltop. Its 31 guest rooms and stunning restaurant are all open - literally - to the fresh breezes and what must surely be the most breath-taking view of the world.

Taking full advantage of its natural surroundings, Ladera offers a unique design in guest accommodations. The 6 villas and 25 suites all have an "open wall" - the west side of each unit is left open to expose the breathtaking view, and the orientation of the buildings maintains complete privacy. The resort features a scenic pool and deck area and each comes with a plunge pool. Website
Anse Chastenet Resort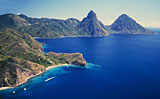 Voted " One of the World's Top Ten Most Romantic Resorts " by A&E television, Anse Chastanet is a secluded, spectacularly scenic hideaway located on St.Lucia's southwestern coastline, right in the heart of the marine reserves and near all major sightseeing attractions.

Anse Chastanet is nestled harmoniously amidst 600 tropical acres with two soft sand beaches, pristine coral reefs just offshore and with some of the most spectacular views St. Lucia can offer. Enjoy 49 individually designed rooms decorated with original art in hillside or beachside setting. Resort facilities include 2 restaurants/bars, full service spa, professional scuba center for scuba diving and snorkel excursions, mountain bike facility with 10 miles of dedicated private trails, boutiques, art gallery, tennis, watersports, excursions desk.

Enjoy the romance , tranquility and adventure of Anse Chastanet. Website
Jade Mountain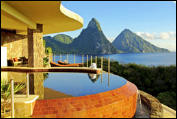 High on Morne Chastanet, overlooking St. Lucia's Piton World Heritage site and the Caribbean Sea, Jade Mountain is Anse Chastanet's new and exclusive resort within a resort. Anse Chastanet's architect owner, Nick Troubetzkoy, has expanded upon his philosophy of building in harmony with Caribbean nature and environment by introducing a new level of sophistication in the design of Jade Mountain.

The bold architectural design with individual bridges leading to the extraordinary infinity pool suites and columns reaching towards the sky makes Jade Mountain one of the Caribbean's most mesmerizing resort experiences. Website
Half Moon Blue, Tobago
Hotel Class:


Charming boutique hotel.
Hotel Reviews: TripAdvisor
Sibonné Beach Hotel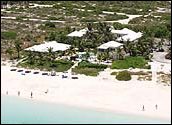 Sibonné Beach Hotel is a small, intimate hotel located directly on Grace Bay Beach - one of the best beaches in the world. With all of the room amenities of a modern resort (cable TV, mini-fridge, hair dryer, in-room safe, air conditioning, ceiling fan, direct-dial telephones with data-port and coffee maker) - we offer comfortable accommodations with lush garden or ocean views, fresh water pool and the best location on Grace Bay Beach. Our everyday value rates include Continental Breakfast at our beachfront Grace Bay Bistro Restaurant making Sibonné Beach Hotel the best choice in the Turks & Caicos Islands for casual elegance, relaxation and a perfect Caribbean vacation!
Hotel Reviews: TripAdvisor
Eco Resorts
Villa Rental Agencies
Featured Accommodations
All Inclusives