Home > Featured Accommodations
We welcome you to experience our featured accommodations. Click on a destination or an individual listing for details.

Exclusive Retreats, St. Lucia


Private Luxury Villas, Tortola, British Virgin Islands


Private Villa Resort, St. Croix, USVI


Exclusive Caribbean Villa Rentals


Antigua & Barbuda


Bahamas, Abaco


Bahamas, Andros


Bahamas, Eleuthera


Bahamas, Exuma


Belize


Bonaire


British Virgin Islands, Tortola


Cayman Islands, Grand Cayman


Costa Rica, Central Valley


Honduras, Roatan, Bay Islands


Jamaica


Saba


St. Eustatius


St. Lucia


Bequia, St. Vincent & The Grenadines


Turks and Caicos Islands, North Caicos


Turks and Caicos Islands, Provo


U.S. Virgin Islands Islands, St. John


U.S. Virgin Islands Islands, St. Thomas


Villa Rentals
Anse Chastanet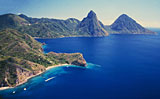 Voted "One of the World's Top Ten Most Romantic Resorts" by A&E television, Anse Chastanet is a secluded, spectacularly scenic hideaway located on St.Lucia's southwestern coastline, right in the heart of the marine reserves and near all major sightseeing attractions.

Anse Chastanet is nestled harmoniously amidst 600 tropical acres with two soft sand beaches, pristine coral reefs just offshore and with some of the most spectacular views St. Lucia can offer. Enjoy 49 individually designed rooms decorated with original art in hillside or beachside setting. Resort facilities include 2 restaurants/bars, full service spa, professional scuba center for scuba diving and snorkel excursions, mountain bike facility with 10 miles of dedicated private trails, boutiques, art gallery, tennis, watersports, excursions desk.


From October 1, 2006 Anse Chastanet's new and exclusive resort within a resort JADE MOUNTAIN featuring unique open wall suites each with an extravagantly sized private infinity pool.

Enjoy the romance, tranquility and adventure of Anse Chastanet. Website
Private Luxury Villas, Tortola, British Virgin Islands
Fort Recovery Estate Villas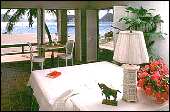 Magnificent Sunsets, Superb Panoramic Views, and Cool Breezes

One of Tortola's most sought after Private Luxury Villas on the Beach Not Hillside. Spectacular 3-4 bdrm beachfront home, 6-8 persons $560-$797/nt., Luxury 1-2 bdrm seaside villas $160-$522/nt. Deluxe package $1995 for two (April 15th to Dec 17th) and $2810 for two (Dec 17th to April 14th). Each villa has a Patio, Living Room, Kitchen, Bedroom, Bath, AC, TV, and Housekeeping daily. The Resort has a Fresh Water Swimming Pool, Dock, Chef, Boat Trips, Gym & Spa Services. Romantic week package - $1995 for two (2) includes - Villa, Jeep, 3 Dinners ea., Boat Trip, Massages, Manicure/pedicure, Yoga & Tax.

Featured Discovery's Travel Channel, Starred by Fodor's and awarded triple diamond by AAA. Website
Private Villa Resort, St. Croix, USVI
Villa Madeleine Vacation Villa Resort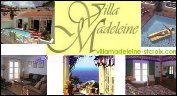 Villa Madeleine Vacation Villa Resort sits on a terraced hillside surrounded on 2 sides by St. Croix's sandy white beaches. Each upscale villa features its own private pool, tropical garden landscaping, water and hillside views. The villas are fully equipped with full amenity kitchens, french doors from the great room living & dining area, and 2 master bedroom suites opening out to the courtyard sun deck pool area, large marble showers, bedrooms with air conditioning and ceiling fans throughout.

Each villa is privately owned and the decor is gracious with owner personal touches making you enjoy your home away from home. Villa Madeleine features tennis on grounds and there's a natural path to walk to one of the beaches. Golf, mini market and island activities are just down the entrance road. Website
Exclusive Caribbean Villa Rentals
Villas Caribe - Caribbean Villa Rentals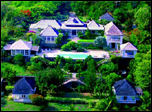 Caribbean villas and Caribbean villa rentals by Villas Caribe features over 900 of the finest Caribbean villas, Caribbean villa resorts, Caribbean villa rentals, and Caribbean villas throughout over 20 destinations in the Caribbean and Mexico.

Our Caribbean villa consultants have earned praise in the following publications: Conde Nast Traveler, Travel and Leisure, Islands Magazine, Caribbean Travel and Life, Passport Magazine, Gulliver (the Italian luxury travel magazine) and they have even arranged a photo shoot for Bridal Guide Magazine. Villas Caribe's exclusive portfolio of Caribbean villa rentals and villa resorts defines and exemplifies the inherent luxury of a Caribbean villa rental experience. Website
Siboney Beach Club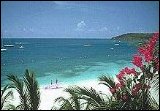 Siboney Beach Club, an intimate "suite" hotel combines modern comfort with the traditional standards of personal service associated with small resorts. Beautifully placed amongst a profusion of verdant foliage, brilliant tropical flowers and palms, Siboney is located on Dickenson Bay - a sheltered mile of white sand beach and turquoise waters.
Hotel Reviews: TripAdvisor
Abaco Beach Resort & Boat Harbour, Abaco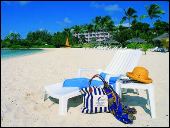 We are the premier Bahamas resort destination in the Out Islands. Located on 52 acres in the Marsh Harbour, we offer a spectacular setting for your vacation getaway that includes accommodations designed for maximum luxury. Imagine gazing out upon the Sea of Abaco from your balcony while relaxing comfortably in your Adirondack chair. You will experience firsthand the refined comforts of our island paradise when you visit any one of the secluded beaches, nearby cays, or simply take in some world-class sport fishing. Along with cool ocean breezes, tropical gardens, and luxurious service, our resort hotel promises to turn your dream vacation into reality. Book your Reservations Online Today for Exceptional Room Rates.
Hotel Reviews: TripAdvisor
Small Hope Bay Lodge, Andros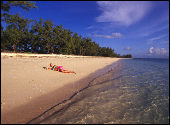 Totally All Inclusive -- Since 1960 Small Hope Bay Lodge has been hosting scuba divers, snorkelers, fishermen, eco-tourists, and relaxers at our out island hideaway on the beach. Small Hope Bay Lodge situated on Andros Island just a short boat ride from the world's third largest coral reef, the diving is nothing less than spectacular. But what really sets Small Hope apart is its unique heritage, its simple and friendly ambience, and something from the soul that simply cannot be cloned or imitated.

We have 21 rooms in cottages right on one of our two beaches. Being an ALL INCLUSIVE property means that your beachfront accommodations, all meals, drinks, bar drinks, evening conch fritter hors d'oeuvres, Discover Scuba or snorkeling lesson, use of sea kayaks, bikes, windsurfers, self guided nature trails, Escape sailboat, hot tub on the beach and all hotel taxes are included in your rate. A la carte items include Scuba Diving, Snorkeling trips, Bonefishing, Reef and Deep Sea Fishing, Guided Eco-Trips, Massage, and the Boutique.

Four of our cottages are 2 bedroom / 1 bath cottages which are great for families. Scuba Diving, Snorkeling, Wedding & Honeymoon packages are available. Our motto is Rest, Relaxation, and Rediscovery. Come see for yourself...
Check out our special!
Website
TripAdvisor Reviews
Jasmine House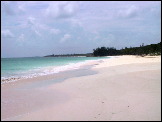 Escape to a romantic stone villa built to catch the breeze. The estate is 80 acres of lush tropical beauty joined with miles of pink sand beach. Indulge yourself with ocean scented breezes and exotixe flowers surrounding your screened veranda. Relax on soft lounges while watching the changing blues and greens of the ocean before you. Think cool stone walls, high ceilings, French doors, large airy rooms and romantic king 4 poster with gauzy netting. In the back garden, you can revive yourself showering under the deep blue sky while enjoying the scarlet bougainvilla climbing up the old Banyan nearby. The completely private shower has room for two with hot and cold water. Jasmine is the best rome base your island adventures.

Amenities include: satellite TV, radio/CD/tape, air conditioning, ceiling fans, fireplace, phone, full kitchen, microwave, dishwasher, outdoor pool, outdoor shower, washer, dryer, iron/board, BBQ grill, beach towels, beach chairs, beach umbrella. Website

Phone : 864.646.5676
Email : gail@jasminehouse.com
Caribbean villa rentals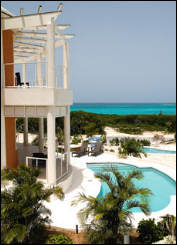 50% OFF SPECIAL ON ALL RENTALS UNTIL THE END OF 2009!

Oceania Heights offers villas with large terraces offering incredible ocean views. This is truly a premier setting to indulge in exquisite island living. Each villa has a private swimming pool, spacious rooms, high-end furnishings, air conditioning, satellite TV, washer and dryer, jetted tub and all the amenities of a first class resort. Your private villa will be fully-staffed including maid service, guard and gardeners, with a cook upon request. It is one minute from a beautiful three-mile beach and is nestled next to a bird sanctuary.

This is the perfect recipe for relaxation and also where Johnny Depp stayed while filming in the Bahamas!
Web: www.oceaniaheights.com - Email: info@oceaniaheights.com - Phone: 242-345-0187
Caye Casa, Ambergris Caye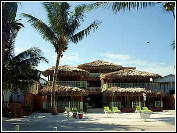 Caye Casa is a boutique hotel - the ideal spot to escape and explore Belize. Located directly on the beach, this unique resort combines modern technology with timeless tropical touches - a sophisticated retreat for the discriminating tourist. Wooden shutters. Stainless steel appliances. Thatch covered porches. Waterfall pool. AC. Cable television. Wireless internet. Personalized service.

Three, two bedroom Villas have spacious living rooms, dining areas, gourmet kitchens and unbelizeable porches. The bedrooms either have one king or one queen sized bed with private tiled bathrooms. There is one villa on each floor.

The Casitas have beach front living rooms with kitchenettes, a separate bedroom with one queen sized bed and tiled bathroom. They are both located on the first floor.
Website.
Holiday Bonaire.com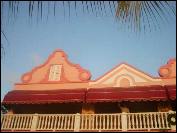 Looking for a holiday rental on Bonaire? Here you can find bed and breakfasts, apartments, lodgings, inns, bungalows and holiday rentals. And if you are interested in renting out your Bonaire holiday home, on Holiday-Bonaire.com you can list your property!

Bonaire is a small island located in the southern Caribbean, famous for its activities in the environmental preservation, in particular the preservation of the marine environment. With its stunning underwater scenery, Bonaire is ranked as one of the top three dive spots in the world. It's also is a good spot for snorkelling and windsurfing or to take a kayak tour in the mangroves. But you also can enjoy being on the beach or taking a swim in the beautiful turquoise Caribbean Sea.

Surf for further information to www.holiday-bonaire.com
British Virgin Islands, Tortola
Long Bay Beach Resort & Villas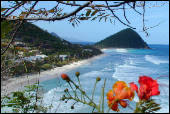 No Hi-rises. No Hassles. No Crowds. Nestled in a secluded, 52-acre hillside resort on the island of Tortola in the British Virgin Islands, Long Bay is much more than a beach resort of stunning beauty. A hidden paradise which isn't hard to find, but is so hard to leave.

Swim, snorkel, play tennis or just swing from a hammock and relax at the water's edge on the mile-long white sand beach. Enjoy the comforts of home with the beauty of Tortola from your own villa, beachfront deluxe or beachfront cabana. Breathtakingly beautiful views and casual sophistication in any accommodation, perfect for any getaway. Simply the most refreshing vacation experience of your life.
Hotel Reviews: TripAdvisor
Aqua Bay Club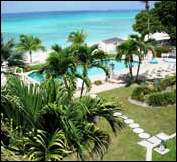 One of the most desirable luxury Cayman Island condos along world famous Seven Mile Beach, Aqua Bay Club offers great value specials! Get 7 Nights for the Price of 5 or a Free Night-Free Dive among many other budget-friendly packages.

Each of our 21 luxurious oceanfront apartments come equipped with full-sized fridges, TV's/DVD's, as well as separate bedrooms. Also included are free cell phones and wireless internet access. Couples can even share a unit and the cost!

Cemetery Reef, among others, lies just offshore of the resort, making the water calm and providing an excellent place to snorkel and swim and laze in the sun. If you prefer shopping, nearby George Town is a hotspot.

With the view of pearly white sand blending into the almost blinding "Cayman Blue" water, Aqua Bay Club offers the perfect vacation getaway.
Website
The Reef

Simply Relaxation - Located on Grand Cayman Island's east end, away from the crowds, The Reef is simply about relaxation - on a Cayman island beach and in comfortable Cayman island accommodation.

From swimming pools and water sports to volleyball and tennis - and everything in between - recreation reigns supreme at The Reef's 1600 feet of Cayman Island beachfront.

The Reef is a family-run resort offering the best in Cayman island accommodation with 152 studios, one bedroom and two bedroom condominiums - all overlooking the teal-blue Caribbean Sea and The Reef's 1600-foot white sugar beach. Our Cayman island beach is a tropical paradise playground and also great to laze around! We have 3 landscaped pools, including an Infinity and a child's pool, with a Jacuzzi and showers on the pool decks, as well as 2 sandy beach swimming areas. Play beach volleyball or tennis, take a bike ride or snorkel offshore among the many vibrant fish the congregate around the coral reef. The Reef also schedules weekly resort activities. Or simply relax in one of the beach chairs among the palm trees on the beach. Because simply relaxing is what The Reef is about.
Website
Vista del Valle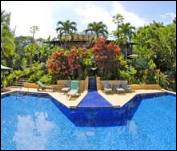 Vista del Valle is strategically located in the Central Valley next to the Rio Grande Nature Reserve, only 20 minutes from the international airport. The rooms offer a unique Rustic Japanese style yet at the same time, have all the amenities for your comfort. Perfect for a romantic getaway, ideal for a honeymoon, anniversary or simply to enjoy time together with the family in a comfortable and tranquil setting.

Enjoy the pure air and perfect climate while exploring our grounds, hiking to our 300 ft. waterfall, or relaxing in our Jacuzzi. We have a professional bilingual staff who offer personalized service so that you can relax and enjoy your vacation. Whether it's a massage on the balcony of your bungalow, exploring acres of our botanical gardens, or for the more adventurous a tour by horseback through a coffee plantation, you will never forget your time spent with us.
Website
Bananarama Dive and Beach Resort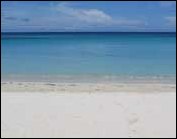 Bananarama Dive and Beach Resort is blessed with turquoise waters, white sand and dense foliage, making it a haven for those looking to escape from the stresses of daily life. With a PADI 5 Star Gold Palm Instructor Development Center, new equipment and highly skilled staff, even the most experienced divers will be impressed while diving the 2nd largest reef in the world. Perfectly placed in the center of West Bay Beach, Bananarama provides the tropical vacation of your dreams.

Whether you are seeking solitude and privacy in one of our garden cabanas, or viewing the sunset from our beachfront rooms, relaxation is eminent. Lie in your hammock, or sip a refreshing beverage on the beach while dipping your feet in the crystal blue water in front of our resort. You'll enjoy clean, comfortable rooms and a superior restaurant and bar. Our attentive staff and fantastic service will make your vacation worry free. All of our guests receive complimentary breakfast, use of our kayaks and beach chairs, and high speed wireless internet onsite Website
Island Pearl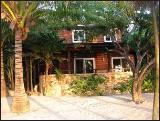 Uncover a little known wonder in the Caribbean, where you can bask in near perfect weather steps from the silken sand. With a small number of intimate villas and a spacious owners villa, Island Pearl provides a serenity undiscovered in Roatan. Canopied by swaying palms, the beauty and intrigue of an Island Pearl visit has always drawn guests who are looking for something more.

The beach front of Island Pearl offers quiet serenity unmatched on West Bay Beach. With only four Beach Villas, Island Pearl provides sanctuary from the ever-growing popularity of Roatan. The lower level of each villa includes a small kitchen / dining area, a 2-twin bedroom, and a bathroom. A roomy queen bedroom and screened reading area occupy the upstairs. The large, main-level patios overlook the beach front garden area and have full or partial views of the ocean. All of our guests enjoy free breakfast, use of the kayaks and beach chairs. Website
Palmetto Bay Plantation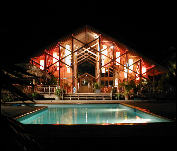 Palmetto Bay Plantation is a natural paradise situated on a sparkling bay, surrounded by a coral reef. Pristine beaches friendly faces and rhythm that allow you to appreciate the natural beauty are your constant companions.

From our white sand beach, you can walk for miles and not encounter "modern civilization". See why so many people have chosen to make Palmetto Bay Plantation their vacation destination and why seven major television shows have filmed programs at our resort including "Temptation Island" on Fox TV. Each Casa has wireless internet.
Telephone: 011-504-991-0811
Website
Moon Dance Villas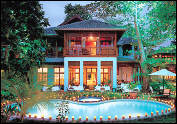 Moon Dance Villas invites you to experience the finest rental accommodations in all of Negril, Jamaica. Beautifully situated on Negril's spectacular 7-Mile Beach, Moon Dance Villas is actually six elegant and incredibly comfortable beach homes. Each offers you the services of its own devoted and delightfully attentive staff: chef, bartender, and housekeeper- all committed to making your Jamaican getaway a truly pleasurable adventure in paradise!

Whether dining in your private gazebo, dining room, or veranda, your personal chef and staff spare no effort in serving you the finest island delicacies or traditional American fare. Your personal chef uses only the freshest ingredients to create flavorful masterpieces.

From our magnificent beach homes to the villa's attentive staff, everything has been planned to make your getaway to our island paradise unforgettably relaxing and adventurous.
Website. Telephone: 1-800-621-1120.
The Gate House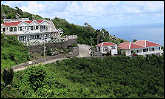 With a commanding view of the ocean and five neighboring islands, amidst tropical plants, the Gate House is your boutique hotel, or hotel de charme," a perfect hideaway with a choice of five bright, spacious, cozy and airy double rooms, a "Love Nest" cottage with private terrace, and a Luxury Villa for up to 8 people with its own private pool. The Gate House offers the best gourmet Restaurant on the island in a very romantic and elegant, yet casual atmosphere.

Saba's premier boutique hotel - A Place with a Soul. AAA Three diamonds award for the restaurant.

From US/Canada Toll Free 1-877-456-5198. Website
Ecolodge Rendez-Vous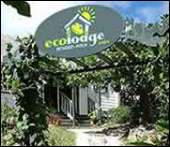 The Ecolodge Rendez-Vous is a small family-operated eco resort surrounded by lush tropical vegetation - a perfect hideaway for people who want to get away from it all. It's a hotel where guests feel quickly at home, in comfortable mosquito-free accomodation, receive personal attention & where the individual still counts.

The Ecolodge is more than just a hotel, it's a lifestyle based on the premise that contact with nature is essential to relieve stress, to rejuvenate and to rediscover a sense of self. We offer accommodation in 12 comfortable, charming Saban-style cottages, each with private porch, hammock and bathroom, scattered over abandoned terraced farmland that has been recovered by rainforest. All are individually decorated in nature themes by local artist Heleen Cornet. Call Toll Free: 1 877 257 0524. Website
Juliana's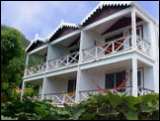 Juliana's offers their guests all the comforts of home and a breathtaking view of the surrounding mountain, ocean, and colorful tropical gardens. Nestled in the village of Windwardside, Juliana's offers their guests an ambiance of "Old World" with intimate, modern, and charming guestrooms, which provides every comfort. Built in 1986 and newly renovated in 1999, Juliana's decided to keep true to the local architecture of gingerbread designs, while the décor is in a Caribbean setting. Website
Scout's Place Hotel, Bar, Restaurant & Dive Center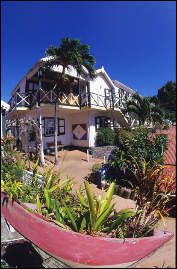 Scout's Place Hotel, Restaurant, Bar & Dive Center is a unique all-in-one resort on Saba. It is one of the oldest, most traditional places on Saba and is designed for divers, hikers and other nature lovers.

The hotel is in the heart of the little gingerbread village of Windwardside just a few walking minutes from the Tourist office, Shops, Restaurants and some trail heads. It has 14 individual styled rooms, all of them have ocean view and most of them are equipped with fan, refrigerator, telephone, internet access, private bathroom, balcony & cable TV. Other amenities are a tropical patio, pool, terraces & boutique as well as a restaurant and a bar.

From our terraces you have a gorgous view on the village, the mountain and the ocean and at the bar you can meet divers, tourists and locals alike.

We have our own professional dive center and offer great rates and packages for business travellers and divers alike. Master & Visa Card accepted. Website
Willard's of Saba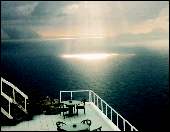 For more than ten years, "Willard's of Saba" has continued the family tradition of the world renowned Willard Hotel of Washington, D.C. As the highest hotel in the Kingdom of the Netherlands, "Willard's of Saba" from its 2,000 foot cliffside location offers spectacular views of the Caribbean and Atlantic Ocean and five neighboring islands. Situated above the village of Windwardside, "Willard's of Saba", provides seven spacious guest rooms with balconies, tennis court, jacuzzi, solar heated swimming pool, fitness room, massage by a trained masseuse, bar/lounge with TV, and intimate restaurant with gourmet cuisine and fireplace. Corazon de Johnson S., Hotel Manager and Chef, has been recognized by "The International Who's Who of Chefs" 2004-2005 as "Among the Best Chefs in the World". Website
Kings Well Resort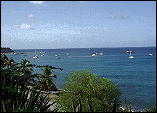 Always a cool breeze and a warm smile...

A small resort featuring a spectacular view of Oranje Bay and only a minute walk to the beach. Operated more as a semi-private villa catering to our hotel guests exclusively for breakfast and lunch. Each room has it's own fridge and cable t.v. as well as balcony. Some rooms are also air conditioned, although it's seldom needed. A 30 ft. catamaran is available for fishing or a day sail to nearby St. Kitts. Website
Hotel Reviews: TripAdvisor
Jade Mountain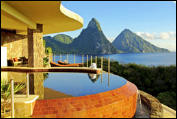 High on Morne Chastanet, overlooking St. Lucia's Piton World Heritage site and the Caribbean Sea, Jade Mountain is Anse Chastanet's new and exclusive resort within a resort. Anse Chastanet's architect owner, Nick Troubetzkoy, has expanded upon his philosophy of building in harmony with Caribbean nature and environment by introducing a new level of sophistication in the design of Jade Mountain.

The bold architectural design with individual bridges leading to the extraordinary infinity pool suites and columns reaching towards the sky makes Jade Mountain one of the Caribbean's most mesmerizing resort experiences. Website
Ladera Resort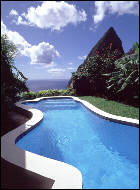 Southern St. Lucia - with its small fishing villages, mountains and valleys carpeted in rainforest - is commonly described as "the way the Caribbean used to be." Two miles from its sleepy port of Soufriere, up a steep hill over hung with mango trees, lies the most unique resort in the Caribbean.

Ladera looks as if it has grown out of the hilltop. Its 31 guest rooms and stunning restaurant are all open - literally - to the fresh breezes and what must surely be the most breath-taking view of the world.

Taking full advantage of its natural surroundings, Ladera offers a unique design in guest accommodations. The 6 villas and 25 suites all have an "open wall" - the west side of each unit is left open to expose the breathtaking view, and the orientation of the buildings maintains complete privacy. The resort features a scenic pool and deck area and each comes with a plunge pool. Ladera Voted #1 Hotel in the World by Condé Nast Traveler Readers. Website
Oasis Marigot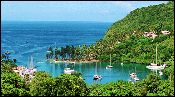 Oasis Marigot is a vacation community nestled on the hillside overlooking Marigot Beach, St. Lucia. We offer different types of accommodations to fit any travel budget. All our units enjoy a spectacular view of the most beautiful bay in the Caribbean. Active vacationers who want a unique experience, such as island hopping on a 42-foot yacht, diving or sailing, will find it at Oasis Marigot. Peace and serenity abound in these beautiful surroundings where you can enjoy our own Nature Trail. There is a PADI dive center on site. The Club offers sail-away options to nearby exotic islands and water-taxi excursions to nearby deserted beaches and snorkeling adventures. Website


Windjammer Landing Villa Beach Resort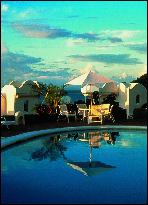 This exclusive Mediterranean-style resort sloping gently down a verdant hillside towards the pristine beach and crystalline waters of Labrelotte Bay. The sophistication of this resort compliments perfectly, honeymooners, couples traveling together, singles looking for adventure and families who are looking for a fun place and to unwind.

Choose from stylish guest rooms, extremely spacious villas or luxurious Estate Villas, most featuring their own private plunge pools and all boasting breathtaking ocean views.

The Resort offers its pampered guests the option of independent luxury villa-living combined with dining and recreational possibilities of a tropical resort. Four magnificent restaurants await, as well as a water sports program, four swimming pools, floodlit tennis courts, the Serenity Spa and supervised activities for children and teens.

Windjammer Landing is simply "A World Apart".
Hotel Reviews: TripAdvisor
St. Vincent & The Grenadines, Bequia
Bequia Beachfront Villas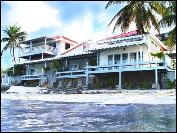 Magnificent Sunrises, Superb Panoramic Views and Cool Breezes

Featured in Architectural Design, Bequia "Bek-way" Beachfront Villas have three large beautifully designed luxurious villas from 1-4 bedrooms located at Friendship Bay Beach. Each villa features very high beamed ceilings & panoramic spectacular views of the bay & beach.

Located on a very spectacular beach called Friendship Bay. Bequia Beachfront Villas are on the end of the beach in a cul-de-sac affording privacy, calm swimming, snorkeling and blue-green waters with spectacular views of the long white sandy beach. If you desire fresh fish the fishermen are there to accommodate you. Website
Turks and Caicos Islands, North Caicos
Hollywood Beach Suites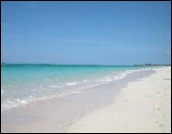 Welcome to Hollywood Beach Suites, a secluded intimate and tranquil Caribbean paradise on the Island of North Caicos. Our four comfortable beachfront suites sit directly on a stunning seven-mile stretch of sparkling white, powder-soft sand and look out on brilliant sweeping turquoise waters. Enjoy the coral reef, swimming, snorkeling, scuba, ocean kayak and biking.

At Hollywood Beach Suites, you will never need to reserve a lounge chair, or wait your turn to relax and enjoy. Take pleasure in inspiring sunrises and magnificent sunsets; daylight swims and moonlight strolls. Relax beachside where gentle cooling trade breezes pass under the shade of tall native Casaurina pines, or soak up the warm sunshine in the luxurious sand.

Explore the beautiful island scenery, with its lush vegetation, and tropical birds and butterflies. Or explore the underwater world of wonders on a snorkeling or scuba adventure to view the remarkable coral reef and flourishing tropical fish life. Take a little time to get to know your family again, or to celebrate the friendship that brought you all here. Website
Turks and Caicos Islands, Provo
Sibonné Beach Hotel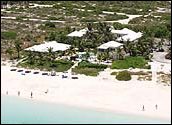 Sibonné Beach Hotel is a small, intimate hotel located directly on Grace Bay Beach - one of the best beaches in the world. With all of the room amenities of a modern resort (cable TV, mini-fridge, hair dryer, in-room safe, air conditioning, ceiling fan, direct-dial telephones with data-port and coffee maker) - we offer comfortable accommodations with lush garden or ocean views, fresh water pool and the best location on Grace Bay Beach. Our everyday value rates include Continental Breakfast at our beachfront Grace Bay Bistro Restaurant making Sibonné Beach Hotel the best choice in the Turks & Caicos Islands for casual elegance, relaxation and a perfect Caribbean vacation! Website
Sunset Point Oceanfront Villa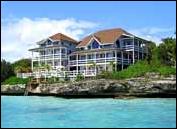 Caribbean Travel & Life Magazine chose Sunset Point as the featured villa under its Island Hopping section in the March 2006 issue! It also declared Turks & Caicos the "Best Undiscovered Caribbean Destination".

Travelers are quickly discovering the beauty of Providenciales in Turks & Caicos, with its incredible turquoise waters, white sand beaches, and excellent restaurants. And many of them are staying at one the island's most popular vacation villas...Sunset Point. This 4000 sq/ft oceanfront home is available for weekly rental and features four spacious bedroom suites with ensuite baths, large private pool, wraparound decks, and ocean views from every room!

For more photos and info about Sunset Point Villa and Turks & Caicos, click here.
United States Virgin Islands, St. John
Hillcrest Guest House

"The perfect place to feel human again.". Tropical Garden Suite, Front and Southern Suites are located on the top floor overlooking Cruz Bay Harbor. Walk to banks, churches, supermarkets, taxis and stores. Centrally located. Air conditioned, kitchen, complimentary menu, snorkeling & beach equipment, parking, DVD's, Cable TV, Lounge Area and fantastic sunsets.

August to December 21st, 20% off. Senior citizens receive $200 off per week.

Daily Rates: $175 to $300/day. Weekly Rates:$1100 to $2500/week.

Tel. No. 340 776-6774 or cell: 340 998-8388. or E-mail: hillcrestguesthouse@yahoo.com
Website
United States Virgin Islands, St. Thomas
Wyndham Sugar Bay Resort & Spa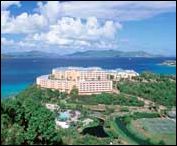 Wyndham Sugar Bay Resort & Spa is located on St. Thomas Island in the beautiful Caribbean. Enjoy our secluded beach, three inter-connecting pools, and a wide variety of water-sport activities, hobie-cats, kayaks, excellent snorkeling, and scuba diving. Relax in a guest room full of delightful touches and enjoy panoramic views of the Caribbean Sea and surrounding islands from your private balcony. Unwind in the"style-of" Michael Graves-designed room amenities and Be Well bedding. For groups, we boast state-of-the-art equipment, 12 indoor meeting rooms, and are capable of holding receptions of up to 800 people. Or you can choose from a variety of our outdoor venue options for any size group. Enjoy our on-property wedding specialist, and pick from a variety of wedding packages and a la carte extras.
Caribbean Villa Rentals by CaribbeanDays


A trusted leader in the luxury Caribbean villa rental industry, CaribbeanDays has offered its guests the finest Caribbean villa rentals for more than 25 years. They represent over 1,000 luxury Caribbean villa rentals on twenty islands throughout the Caribbean. CaribbeanDays provides the highest level of personal assistance in order to ensure that all their Caribbean villa rentals exceed expectations. Let them offer you that same level of personal service; visit their website and contact their Caribbean villa specialists for honest villa reviews and to begin planning your Caribbean villa vacation today.
Villas
All Inclusives
TripAdvisor Hotel Search!