Home > Places to Stay > Honduras > Mainland Honduras
Marriott Tegucigalpa Hotel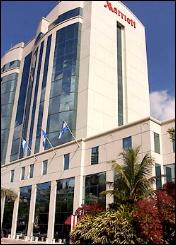 Hotel Class:


Located in the heart of the fastest growing region of the city and two blocks away from the Presidential House, the modern building that houses the Marriott has quickly become a landmark of contemporary Tegucigalpa. Decked with traditional Lenca Pottery and the works of contemporary Honduran painters, the hotel is a melting pot of local heritage. Marriott Tegucigalpa has positioned itself as the "place to be" when in the city. Both visitors and locals alike enjoy a variety of experiences including the exquisite international cuisine of our Restaurant Cocina Latina; the fun and entertainment of NAPOC Bar; and the gourmet coffee and mouth-watering desserts of Rincon de San Miguel. For the business traveler, everything in our hotel is geared towards helping our guests accomplish the goals of their trip. From comfortable meeting rooms to relaxing and invigorating environments at our spa and fitness center, Marriott Tegucigalpa allows you to revive after conquering your day.
Hotel Reviews: TripAdvisor



Honduras Maya Hotel, Tegucigalpa
Perfectly located in the picturesque city of Tegucigalpa, modern and Maya blend perfectly in this luxurious hotel in Central America. The Hotel Honduras Maya offers all the fine features of a hotel of its class: banquet and convention facilities for up to 2000 persons, swimming pool, health spa, gymnsium, room service, coffee shop, a restaurant offering gourmet cuisine, Lobby Bar, shopping arcade, beauty parlor, barber shop and car rental agencies.
Hotel Reviews: TripAdvisor

Hotel Copantl, San Pedro Sula
190 Rooms, business center, conference rooms.

Hotel Portal del Angel, Tegucigalpa
A five star small and exclusive boutique hotel.
Hotel Reviews: TripAdvisor

Hotel Sherwood, Tela
Located in front of Tela's beaches, Hotel Sherwood is an excellent alternative for those in the need to relax and have fun as they enjoy the tropical climate and beauty of the bay.

Las Cascadas Lodge, Luxury Hotel, Ecolodge, Tours, Travel, Real Estate, La Ceiba
Luxury hotel-ecolodge accommodations and tours in the Pico Bonito National Park in La Ceiba.

Marriott Tegucigalpa, Tegucigalpa
Offers well-appointed accommodations and superior facilities just three miles southeast of city center and four miles from the airport.
Hotel Reviews: TripAdvisor



Minister Suites, Tegucigalpa
A unique extended stay hotel. Beautifully appointed suites designed for the business traveler with high-bandwidth internet access, computer desk, safe, 3 direct-dial telephones, bar and kitchenette with fully stocked pantry.

Palma Real Beach Resort & Casino, La Ceiba
Situated on Roma beach; the resort is located just 25 km from Puerto de la Ceiba and 25 km from the airport.
Hotel Reviews: TripAdvisor

Tela Beach Club, Tela
Vacation rental units available.
Mango Bed & Breakfast, Tela
Only a few blocks from the heart of Tela, the Central Park, and the most beautiful Carribean beaches in Honduras.



Places to Stay

General Information
Photo Gallery
Map
Real Estate
Trip Reports
Links
Home