Home > Destinations > U.S. Virgin Islands > Places to Stay > St. John
Battery Hill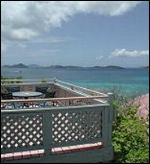 Battery Hill is comprised of eight 2-bedroom luxury condominiums (and one 1-bedroom studio) with dramatic views of enchanting Cruz Bay, Pillsbury Sound and the turquoise sea.

Skillfully tiered on a knoll just a seven minute walk from Cruz Bay village, these exquisitely appointed and fully equipped homes feature air conditioning, quality furnishings, entertainment centers, cable TV, tasteful artwork and complete kitchens. All units have private decks overlooking the pool, Cruz Bay and surrounding islands, and are designed for comfort and Caribbean living. Enjoy walks to three dozen dining spots, shops, the ferry and some of the many beautiful St. John beaches.

Battery Hill is the ultimate in location, comfort, style, views and island breezes. Truly the "best of all worlds" for accommodations on St. John, and at very affordable rates.

Please contact us at (800) 341-2532 or email info@GreatCaribbeanGetaways.com with any questions you might have.
Hillcrest Guest House

"The perfect place to feel human again.". Tropical Garden Suite, Front and Southern Suites are located on the top floor overlooking Cruz Bay Harbor. Walk to banks, churches, supermarkets, taxis and stores. Centrally located. Air conditioned, kitchen, complimentary menu, snorkeling & beach equipment, parking, DVD's, Cable TV, Lounge Area and fantastic sunsets.

August to December 21st, 20% off. Senior citizens receive $200 off per week.

Daily Rates: $175 to $300/day. Weekly Rates:$1100 to $2500/week.

Tel. No. 340 776-6774 or cell: 340 998-8388. or E-mail: hillcrestguesthouse@yahoo.com
Website
Lavender Hill Suites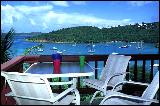 Located on magnificent St. John, U.S. Virgin Islands, Lavender Hill Suites overlooks the ocean and features wrap-around decks with spectacular views of the harbor, ocean, sunsets, and other islands. Our one- and two-bedroom vacation condos are just a short walk from downtown Cruz Bay's restaurants, shops, and nightlife, yet are situated on a private perch nestled among palms and banana trees. Salt air and ocean breezes bathe Lavender Hill, while watersports and pristine beaches are just steps away.

All suites are fully furnished and decorated. Units feature cable TV/VCR, CD player, telephone, large balconies, Internet connections, computers, and gourmet kitchens.

Come enjoy the tropical splendor and elegance of Lavender Hill Suites. Ask about our special rates!
Email : lavender.hill@verizon.net
Seaview Homes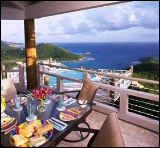 Welcome to Seaview Vacation Homes on St. John, US Virgin Islands. Let us help you plan a Caribbean vacation of a lifetime. From luxury villas to affordable homes, all offer commanding ocean views. Seaview Vacation Homes offers 1 to 5 bedroom fully furnished vacation homes and villas. Amenities include full kitchens, private decks with views and breezes, pools, hot tubs, and air conditioning. All homes and villas are within close proximity to National Park protected beaches, hiking trails, and ruins. Duty free shopping, wonderful restaurants, and markets are easily accessible as well. On-island property managers escort you from ferry dock to your villa, and are on call during your visit.
Email : seaviewhomes@islands.vi
Caneel Bay
Luxury Rosewood Hotel & Resort nestled on the island of St. John, where you can explore beautiful beaches of the Caribbean, featuring swimming, sailing, snorkeling, scuba diving and other water sports.
Hotel Reviews: TripAdvisor

Estate Lindholm
An intimate bed and breakfast inn set amongst Danish ruins on the hillside overlooking Cruz Bay harbor.
Hotel Reviews: TripAdvisor

Gallows Point Resort
Ideal blend of luxurious living in perfect harmony with St. John's spectacular natural beauty.
Hotel Reviews: TripAdvisor

Westin St. John Resort & Villas
Hotel Class:


282 guest rooms and suites, and the 67 villas feature a host of convenient amenities.
Hotel Reviews: TripAdvisor
Andante By The Sea
An oceanfront three bedroom, three bath, air-conditioned luxury vacation villa rental.

Carefree Get-Aways On St. John
Vacation villa & condo rentals, ocean view villas, waterfront villas, spa villas, pool villas.

Caribe Havens
Vacation home rentals.

Charming Hideaways
Vacation villas, cottages and suites.

Cinnamon Bay Estate
Catherineberg & National Park setting of this 3 bedroom, 3½ bath villa offers some of the most beautiful views and undisturbed tranquillity available on St John.

Cloud Nine Villas
St. John villa and home rentals.

Cruz Bay Villas
4 very private and secluded villas.

Fantastic View
Charming 3 bedroom, 2 bath island home and guest house with an Island touch.

Great Caribbean Getaways
A number of villas for rent on St. John.

Great Expectations
St Johnís popular villa with tennis.

Hawk's Nest
Nestled 310 feet up the side of the hill and offering a complete open air design in the great room area with fabulous views of St. Thomas sunsets.

House on the Peninsula
Located on the far end of the remote, secluded east end of the island, this unique home, featuring handmade pottery, stained glass, and native stone, offers all the amenities of a fine luxury home, while at the same time lets you live in harmony with nature.

Island Getaways
Fully furnished vacation rentals.

Le Grand Bleu
A beautiful oceanfront, Mediterranean styled home overlooking the Caribbean.

Mahogany Tree Villa
A private compound of exquisite, fully-equipped vacation rental villas located 8 minutes from Cruz Bay.

Meritage
Private romantic setting.

Morningside Villa
Spectacular views, elegant comfort and spacious convenience of your own private vacation villa.

Palladio's View
Palladio's View offers a distinctive tropical design with three bedrooms, two baths, covered and open decks, a private spa, pool, and breathtaking water views to the British Virgin Islands and beyond.

Peter Bay Beach House
Residence offers privacy, comfort, and charm within the gated community of Peter Bay.

Private Homes for Private Vacations
Fully equipped vacation rental homes and villas.

St. John Properties
Private homes and condos.

Sapphire Breeze
Private vacation villa rental features a pool, hot tub, and a view overlooking the Caribbean and Cruz Bay.

Satinwood
Luxury eco-friendly villas.

Star Villa Vacation Homes
Rental homes.

Starlit Escape
A private estate nestled among ficus, oleander, bougainvillea and palm trees, Starlit Escape consists of two elegant, private, fully equipped vacation rental suites.
Villa Reviews: TripAdvisor

Stonewood Castle
Private one-bedroom rental villa with views of the Caribbean Sea.

Sunsetvista
Treat yourself to the luxuries of a Caribbean vacation home!

Vacation Vistas
Luxurious villas with pools, and spas.

Vida de Mar
Luxurious Caribbean beachfront villa.

Villa Cielomar
Spacious and stylish, 2-bedroom, 2-bath Caribbean villa.

Villa Claudia
Gracious Caribbean elegance in a spectacular, natural and peaceful setting.

Villa Colorado
4-bedroom, 4½ bath luxury villa.

Villa La Mer
Beautiful 1-bedroom, 1-bath Caribbean villa located just outside of Cruz Bay.

Villa Notre Ciel
Nestled in the wooded highlands of beautiful St. John, Villa Notre Ciel is named for its spectacular views.

Viva! Virgin Islands Vacations & Villas
Villas selected for their privacy - located throughout St. John - ocean views, pool, and spas are just some of the amenities offered.
Calabash Cottages
Romantic, charming, private villa and cottage vacation rentals.

Coconut Coast
Waterfront studio accommodations. Two bedroom and three bedroom condominiums.
Hotel Reviews: TripAdvisor

Garden by the Sea Bed & Breakfast
Unique and tranquil environment where you can escape and relax.
Hotel Reviews: TripAdvisor

Inn at Tamarind Court
This quant Inn blends island charm, resonable rates and conveniently located in the town of Cruz Bay.
Hotel Reviews: TripAdvisor

Park Isle Villas
Represents 11 luxury condominiums at two properties, Battery Hill and Villa Caribe, in Cruz Bay.

St. John Condos
Offers a studio villa and two bedroom villa with maid and room service.

St. John Inn
Located overlooking one of St. John Island's most scenic views, historic Cruz Bay.
Hotel Reviews: TripAdvisor

Serendip Vacation Condos
Located on a hill above the town of Cruz Bay, conveniently close to duty free shopping, beaches, National Park hiking trails and restaurants - yet far enough away to allow you to enjoy the island beauty that defines St. John.

Suite Dreams
Beautifully appointed 500 sq. ft. studio apartment with cathedral ceiling.

Sweet Plantains
Fun and most affordable retreat for singles, small groups and families.
Hotel Reviews: TripAdvisor

Tradewinds Cottage
Beautiful cottage perched above John's Folly past Coral Bay.
Cinnamon Bay Campground
Situated in the unspoiled island refuge of Virgin Islands National Park.
Campground Reviews: TripAdvisor



Places to Stay

Hotel Reviews
General Information
Photo Gallery
Map
Real Estate
Trip Reports
Links
Home