Home > Destinations > U.S. Virgin Islands
The U.S. Virgin Islands offer a number of great options to visitors. From the busy duty-free port of St. Thomas, to the nature lover's paradise of St. John and to the historic past and modern day pleasures of St. Croix.
St. Croix is the largest of the U.S. Virgin Islands, some 84 square miles. The island is characterized by its lush rainforest in its western mountains and rolling hills in nits interior. On the eastern end the terrain is completely different: stark desert vegetation and rocky red cliffs.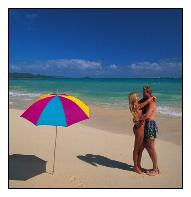 Lining the shores of this island are exquisite white-sand beaches. Although overshadowed for shopping by St. Thomas, St. Croix offers more natural assets for the tourist but also a good helping of serenity and tourist attractions.
The two major towns of Christiansted and Frederiksted are both wortnh exploring. Reminders of the long-gone Danish colonial days are evident in the architecture of the town. Good examples are the impressive Fort Christiansand, the Old Scale House and the Old Danish Customs House.
For nature lovers, Buck Island is an 880-acre nature preserve located five miles off the shore from Christiansted. A program here is underway to help the endangered hawksbill turtle.
Two thirds of St. John is devoted to its national park. This is a sanctuary for flora and fauna. Lush hills descend into bays fringed by powder-white sand and turquoise waters.
An ecotourist's paradise, St. John's natural beauty can be enjoyed by trail hikes, shoreline walks, snorkeling and kayaking trips. The National Park has some 20 miles of hiking trails.
There is a strong local commitment to maintaining the islands beauty. With this in mind several campgrounds and lodgings have been established to cater for the environmentally conscious traveler.
Not to miss is at least one trip to one of St. John's fabulous beaches. Take your choice - Trunk Bay, Cinnamon Bay, Francis Bay, Maho Bay and Hawksnest beaches offer visitors an unequalled beach experience.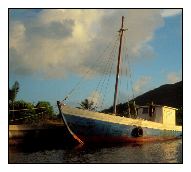 By far the busiest of the U.S. Virgin Islands is St. Thomas. Here you'll find a bustling duty-free port, a wide range of fabulous shops, watersports galore and restaurants and night-life that will suit your mood.
St. Thomas is the Caribbean's most active cruise port and Charlotte Amalie (St. Thomas's town) the biggest duty-free shopping center in the region. Thousand of tourists visit St. Thomas each year in search of bargain in the duty free shops or just plain rest and relaxation. Glorious beaches abound, Magens Bay and Bolongo Bay are many sun-worshipper's favorites.
Watersports offerings include sailing, diving, windsurfing, snorkeling and kayaking. The USVI are also renowned for excellent sportfishing.
If you're a golfer try a round at Mahogany Bay where several of the holes feature formidable tee-to-green sea hazards!
Virgin Islands Guide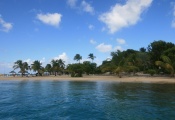 The Virgin Islands Guide is an extensive guide to this sanctuary amid the delightful Caribbean Sea. Including everything from customs information to Virgin Islands culture , the articles in our guide can prepare you for a tropical getaway of a lifetime. Use our guide to effortlessly explore the islands' restaurants , all-inclusive resorts, rentals, and much more before you depart. You can even check the expected regional weather patterns for your month of arrival before researching your flight and hotel accommodations - all in one convenient place.