Home > Places to Stay > Saba
Juliana's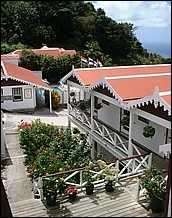 Juliana's offers their guests all the comforts of home and a breathtaking view of the surrounding mountain, ocean, and colorful tropical gardens.

Nestled in the village of Windwardside, Juliana's offers their guests an ambiance of "Old World" with intimate, modern, and charming guestrooms, which provides every comfort. Website
Hotel Reviews: TripAdvisor
Scout's Place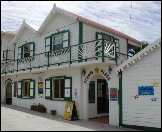 Unique on Saba, Scout's Place is "The Dive Hotel." This old established hotel constructed in the typical quaint Saban style is located in the heart of Windwardside with breathtaking views from all rooms and terraces. The hotel and rooms were recently renovated and are now a wonderful mix of traditional Caribbean and international style. The hotel specializes in catering for both divers and non-divers alike.

Be sure to check out the restaurant that offers our legendary breakfast and our local and European chefs create Saban, Caribbean and international cuisine. Don't miss Scout's Place bar where you can meet divers, tourists and locals alike. Spend an afternoon by the pool overlooking the sea while sipping a cocktail, or linger in the beautiful garden courtyard. Website
Hotel Reviews: TripAdvisor
Ecolodge Rendez-Vous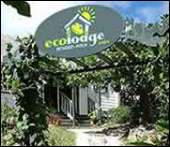 The Ecolodge Rendez-Vous is a small family-operated eco resort surrounded by lush tropical vegetation - a perfect hideaway for people who want to get away from it all. It's a hotel where guests feel quickly at home, in comfortable mosquito-free accomodation, receive personal attention & where the individual still counts.

The Ecolodge is more than just a hotel, it's a lifestyle based on the premise that contact with nature is essential to relieve stress, to rejuvenate and to rediscover a sense of self. We offer accommodation in 12 comfortable, charming Saban-style cottages, each with private porch, hammock and bathroom, scattered over abandoned terraced farmland that has been recovered by rainforest. All are individually decorated in nature themes by local artist Heleen Cornet. Call Toll Free: 1 877 257 0524. Website
Hotel Reviews: TripAdvisor
Willard's of Saba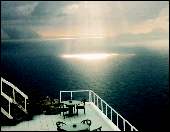 For more than ten years, "Willard's of Saba" has continued the family tradition of the world renowned Willard Hotel of Washington, D.C. As the highest hotel in the Kingdom of the Netherlands, "Willard's of Saba" from its 2,000 foot cliffside location offers spectacular views of the Caribbean and Atlantic Ocean and five neighboring islands. Situated above the village of Windwardside, "Willard's of Saba", provides seven spacious guest rooms with balconies, tennis court, jacuzzi, solar heated swimming pool, fitness room, massage by a trained masseuse, bar/lounge with TV, and intimate restaurant with gourmet cuisine and fireplace. Corazon de Johnson S., Hotel Manager and Chef, has been recognized by "The International Who's Who of Chefs" 2004-2005 as "Among the Best Chefs in the World". Website
Hotel Reviews: TripAdvisor
The Gate House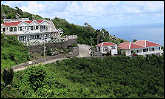 With a commanding view of the ocean and five neighboring islands, amidst tropical plants, the Gate House is your boutique hotel, or hotel de charme," a perfect hideaway with a choice of five bright, spacious, cozy and airy double rooms, a "Love Nest" cottage with private terrace, and a Luxury Villa for up to 8 people with its own private pool. The Gate House offers the best gourmet Restaurant on the island in a very romantic and elegant, yet casual atmosphere.

Saba's premier boutique hotel - A Place with a Soul.

From US/Canada Toll Free 1-877-456-5198. AAA Three diamonds award for the restaurant.
Hotel Reviews: TripAdvisor


Cottage Club
Perched on the edge of a ridge with a view of Mount Scenery, the tiny village of English Quarter and the blue Caribbean Sea. You enter through a colonial-style natural stone plantation house decorated with elegant antiques. A cool breeze makes the lobby a perfect place to come and relax, listen to music, read a book, or simply enjoy the view.

Our guests will tell you that relaxation is the number one reason to come to the Cottage Club.
Hotel Reviews: TripAdvisor

El Momo
Quiet and peaceful eco-alternative located a 10 minute walk up from Windwardside.
Hotel Reviews: TripAdvisor

Queen's Garden Resort
Nestled among the breath taking gardens of Troy Hill. Queen's Gardens is a rural luxurious hotel overlooking one of Saba's picturesque villages and the Caribbean Sea. Located 1,200 feet above the ocean the view is gorgeous.
Hotel Reviews: TripAdvisor




Would you like your property listed? Click here for advertiser information.



Places to Stay

Hotel Reviews
General Information
Photo Gallery
Map
Real Estate
Trip Reports
Links
Home
Saba Tourist Office