Home > Places to Stay > Puerto Rico
El Conquistador Resort, The Waldorf Astoria Collection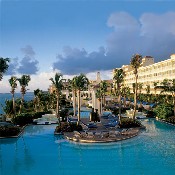 El Conquistador Resort rests on the cliffs overlooking the Caribbean Sea and Atlantic Ocean. This island destination offers outdoor leisure activities, an Arthur Hill championship golf course and luxurious spa treatments. Discover the nearby rainforest or take the family horseback riding in the El Yunque Rain Forest. Plan a day to relax by the six resort pools and Wyndham's own private Palomino Island. El Conquistador's elegant accommodations, spacious bathrooms and panoramic terrace views blend beautifully with the Spanish-style atmosphere. Book 3 nights now at the El Conquistador Resort to receive the 4th night FREE.
Hotel Reviews: TripAdvisor
El San Juan Hotel & Casino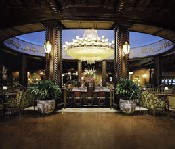 The tropical paradise and Old World charm await you at the El San Juan Hotel & Casino. Located in the fashionable Isla Verde district of San Juan, this elegant resort is at the center of the city's beachfront. Our spacious guest rooms feature spectacular views as well as thoughtful amenities like plush bathrobes and 24-hour room service. When it's time to play, head out to the beach for a variety of water sports, tennis or a swim in a beachfront fantasy pool. Our poolside concierge will help you to turn lounging into an art form. Or take in the excitement of our glittering casino that never sleeps. If you're ready to explore the unique shopping and sizzling nightlife of Old San Juan are just minutes away. Book now for WebRates to receive the lowest rates on the Web.
Hotel Reviews: TripAdvisor
Conrad San Juan Condado Plaza Hotel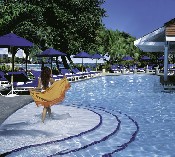 Stay at the four-diamond Condado Plaza Hotel & Casino and experience the magic of Puerto Rico. From the property itself to the attractions of San Juan and the Condado strip, you'll have the best the island offers. From the hotel's central location overlooking the Atlantic and the Condado Lagoon, you can take in sea breezes and watch the sun slowly set. Try your luck at the hotel's casino, the island's largest. Swim at the protected beach, or take some sun on the beachfront terrace followed by a dip in the pool and a drink at the swim-up bar. For the active-minded, there's a lap pool, lighted tennis courts, and a fully equipped fitness center. Back at the hotel, choose from six restaurants, three bars and cafes, and the La Fiesta Lounge for live entertainment and dancing.
Hotel Reviews: TripAdvisor
Las Casitas Resort, The Waldorf Astoria Collection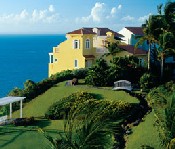 One of only two Caribbean resorts to receive the coveted AAA Five Diamond award, the Las Casitas Resort - A Luxury Resort in Puerto Rico is an exquisitely private enclave. Make yourself at home in one of our 90 deluxe casitas, and treasure the luxury of personal, around-the-clock butler service. Or enjoy a host of outdoor pleasures like wave running, horseback riding, windsurfing, diving or fishing. Swim in a pool with ocean views - reserved exclusively for Las Casitas guests - or tackle the majestic Arthur Hill - designed Caribbean golf course. Take a sunset dinner cruise before you visit the action of our world-class casino. Whether you are looking for adventures or relaxation, Las Casitas Resort - A Luxury Resort offers the ultimate medley of luxury, privacy and fun.
Hotel Reviews: TripAdvisor
Andalucia Guest House, San Juan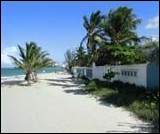 Five rooms and three suites. Every room includes comfortable bed(s), A/C, cable TV, radio alarm clock CD player, closet, dresser and private bathroom with shower and maid service. Two suites have full kitchen and one has a mini-kitchenette. There is a cozy private patio with chairs for whenever you feel like kicking back and enjoying a pina colada under the palm trees.

Located in Ocean Park, San Juan, a 2-minute-walk from the beautiful Atlantic beach. The neighborhood is tranquil and friendly. There are many local restaurants, fast foods and pharmarcies nearby.
Hotel Reviews: TripAdvisor
Hyatt Hacienda del Mar, Dorado
Hotel Class: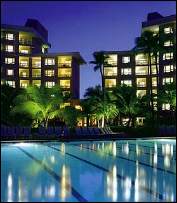 Primarily a vacation-rental property, Hyatt Hacienda Del Mar attracts families for beach, pool, casino, and golf holidays. The resort occupies part of a 1,000-acre former grapefruit and coconut plantation. Famed pro golfer Chi Chi Rodriguez was the first caddymaster at one of the resort's golf courses and maintains a home in the resort complex.

Amenity highlights: A pool complex features a 1,776-foot "river pool" with artificial current. The complex also has five freeform pools, a grotto spa tub, two additional spa tubs, two children's pools, waterfalls, a short waterslide, and a giant spiral waterslide.
Hotel Reviews: TripAdvisor
Atlantic Beach Hotel, San Juan
Gracious small beachfront hotel on Condado Beach.

Beside The Pointe, Rincon
Offering the best in an informal, island vacation.
Hotel Reviews: TripAdvisor

Best Western Mayaguez Resort & Casino, Mayaguez
Situated on 20 acres of landscape gardens, the Resort has a hilltop view of the deep-water harbor of Mayaguez and only a 5-minute drive to the city business center and the University of Puerto Rico.
Hotel Reviews: TripAdvisor

Candelero Resort at Palmas del Mar, Humacao
3½ miles of sandy beaches and lush tropical terrain boasting a dozen species of palm trees. This is where you'll enjoy countless recreational activities, including two championship oceanside golf courses, water sports, horseback riding on the coast, casino adventures, and so much more!

Caribe Hilton, San Juan
646 deluxe room resort offers the right mixture of exceptional accommodations, amenities, services and recreation. Ideally situated on a private 17 acres peninsula near Old San Juan; central to the business district, shopping, tourist attractions and just 15 minutes from the airport.
Hotel Reviews: TripAdvisor

Casa Grande Mountain Retreat, Utuado
A getaway hotel ideal for the adventure seeker eager to explore the interior wonders of Puerto Rico or for anyone searching for peace, relaxation and fine dining. Puerto Rico Hotel and Tourism Association's 1999 "Green Inn of the Year."
Hotel Reviews: TripAdvisor

Copamarina Beach Resort, Guãnica
Tucked away in the seaside town of Guanica on Puerto Rico's unspoiled southwestern coast lies a secluded hideaway where tranquility and activity meet. This is a Puerto Rico far from the glitzy lights of the casinos in San Juan. This is the Copamarina Beach Resort. An exclusive retreat offering the very best in relaxation, fine dining, fabulous diving and eco-tourist wonders.

El Canario by the Lagoon, San Juan
A moderately priced small european-style hotel for the budget minded, who desire a central location in the Condado area of San Juan.
Hotel Reviews: TripAdvisor

El Canario by the Sea, San Juan
Just a stroll from El Canario by the Sea along Ashford Avenue and its side streets you will find a fascinating variety of clubs, shops, restaurants, casinos, and sports activities.
Hotel Reviews: TripAdvisor

El Convento, San Juan
Located in the heart of the historic district of Old San Juan, El Convento (a former Carmelite convent) has set new standards of luxury, comfort and service while preserving the unique character and mystique of the hotel.
Hotel Reviews: TripAdvisor

Horned Dorset Primavera, Rincon
Considered one of the best small hotels of the whole Caribbean.
Hotel Reviews: TripAdvisor

Hotel Melia de Ponce, Ponce
Located in the heart of the Historic District of Ponce, facing the Plaza Delicias and the colorful and picturesque Firehouse Museum. 78 nicely decorated air conditioned rooms with private baths.

La Casa Resort Spa, Rio Grande
Health spa based on the principles of the natural world.

La Cima Hotel, near Aguadilla
Here you will enjoy a perfect balance between countryside tranquility, beach-side action and island nightlife. Located in one of Puerto Rico's most unpopulated areas with close access to over half a dozen beautiful beaches. 42 rooms.

Lazy Parrot Inn, Rincón
Offers the west coast traveler unique accommodations that include AC, cable TV, refrigerator, private bath and daily maid service.
Hotel Reviews: TripAdvisor

Ocean Front Hotel, Jobos Beach Isabela
"One of the best hidden treasures of our island!" - San Juan City Magazine.

Rincon Beach Resort, Rincon
In the middle of this wonderful setting, you'll find one of the most wonderful boutique style resorts in the Caribbean with all the amenities you love and an uncomplicated atmosphere.
Hotel Reviews: TripAdvisor

Río Grande Plantation Eco Resort, Río Grande
Near Nature, close to Heaven... in the Heart of the Rain Forest.

San Juan Beach Hotel, San Juan
The San Juan Beach Hotel is a boutique-style beachfront property located in the trendy Condado area of San Juan, and offers spacious rooms with ocean or lagoon views, pools and a tropical restaurant.
Hotel Reviews: TripAdvisor

Villa Confresi, Rincón
Located in the gorgeous Rincón beach at the west coast of Puerto Rico with pool, restaurant, bar-by-the-sea and breathtaking views and sunsets.
Hotel Reviews: TripAdvisor

Villa Montana, Isabela
This perfect paradise offers luxury accommodations, an abundance of sports and activities, and a very personal staff, making Villa Montaña ideal for family oriented vacations or small group meetings.

Water Club, San Juan
Boutique hotel, excellent location.
Hotel Reviews: TripAdvisor

Hix Island House, Vieques
A unique indoor/outdoor living adventure, night theater under the stars, created for your pleasure

Rincon Beach House, Rincon
Located directly on the palm lined Corcega Beach oceanfront. Four bedrooms and sleeps 7.

Sunset Paradise Villas, Rincón
All units are on the beach and are newly decorated in soft colors of the ocean and offer open living areas, indoor or outdoor dining areas, large covered patios overlooking the ocean, fully equipped kitchens.

Amapola Inn, Vieques Island
Amapola Inn & Tavern is a five-room oceanfront guest house, with restaurant and bar, which began welcoming visitors in April 1997. Located on the Malecon, or Caribbean seaside promenade, Amapola is just steps away from the beach.

At Wind Chimes Inn, San Juan
Unique Boutique Hotel in Condado. Lovingly restored Spanish villa dating to the 1920s. Steps from the best beach in San Juan.
Hotel Reviews: TripAdvisor

Caribe Mountain Villas, Carolina
A hideaway in the foothills of the rain forest.

Casa Islena Inn, Rincon
'Island House'. This once simple ocean front home, has been renovated with Spanish architecture, and colors of the Caribbean. 9 rooms.
Hotel Reviews: TripAdvisor

Casa Verde, Rincon
Beachfront vacation rental condos.

Casa Vista del Mar, Rincon
Enjoy modern, comfortable apartments with panoramic views of the sea and sunsets from your own terrace. Just three minutes from beautiful Corcega beach and downtown Rincon.

El Canario Inn, San Juan
A "Bed and Breakfast" Inn. Spanish Style Inn with 25 comfortable air conditioned rooms with private baths.
Hotel Reviews: TripAdvisor

Lemontree Waterfront Studios, Rincon
Seaside accommodations offer complete individual privacy and fantastic outside living spaces.
Hotel Reviews: TripAdvisor

Mamacitas, Culebra
Guesthouse, restaurant, bar and giftshop located on the Island of Culebra. A great place to eat, stay, or just meet others.

Parador Villa Antonio, Rincon
Fully-equipped, one and two-bedroom apartments and cottages right on one of Puerto Rico's most beautiful beaches. Located just two hours by road from San Juan's International Airport, Parador Villa Antonio has been one of the island's best kept secrets for many years.
Hotel Reviews: TripAdvisor

Pipon's Resort, Rincon
Located 1,000 feet from the beach on a hill. Six 2-bedroom apartments.

Posada La Hamaca Guest House, Culebra
A lovely nine unit guest house of Spanish architecture located on the north side of the canal that separates Culebra's harbor from the Caribbean. There are a variety of relaxing activities - from lounging on the patio next to the water's edge to scuba diving, snorkeling, and fishing.

Rincon Surf & Board, Rincon
Perfect place in Rincon. Minutes from the best beaches. One two and three bedrooms. A/C rooms. Centered around a charming garden and pool. Complimentary breakfast.
Hotel Reviews: TripAdvisor

Sandy Beach Inn, Rincon
Popular inn and restaurant overlooking Mona Passage.
Hotel Reviews: TripAdvisor



Would you like your property listed? Click here for advertiser information.



Places to Stay

General Information
Photo Gallery
Map
Real Estate
Trip Reports
Links
Home