Home > Places to Stay > Panama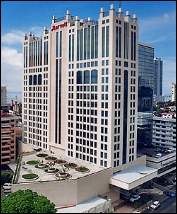 Hotel Class:


As cosmopolitan as the city surrounding it, the Panama Marriott Hotel offers the elegance, outstanding service and amenities that you'd expect from a Panama luxury hotel. Soaring 20 stories above the financial district, it offers an ideal location for business and leisure travelers near shopping, entertainment and vibrant night life. Among the most preferred Panama City hotels, it's where you can share a delightful meal with family or friends at any of our 3 restaurants. Tempt Lady Luck in the casino. Stay fit in the fitness center, take a dip in the pool, or succumb to total relaxation in the indulgent spa. At day's end, you can retire to your spacious guest room that treats you to supreme comfort and conveniences like high-speed Internet and work area.
Hotel Reviews: TripAdvisor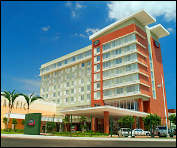 Hotel Class:

Courtyard by Marriott Panama combines the newest technologies with a residential touch. Our 120 guest rooms are totally equipped for the leisure and business traveler. Strategically located in the new Punta Pacifica area, next to the Multiplaza Pacific Mall. For your convenience every room is equipped with a free high speed internet connection, restaurant, bar and room service on premises.
Hotel Reviews: TripAdvisor




Hotel Class:


Situated at the World Trade Center in the heart of Panama City's banking and business district, the Four Points by Sheraton Panama is conveniently located near shopping, dining and entertainment.

Hotel Reviews: TripAdvisor
Avalon Resorts
Nestled on a lush, tropical hilltop in the Panamanian rainforest, The Avalon Grand Panama is one of the country's most complete and luxurious ecotourism destinations.
TripAdvisor Resort Reviews
Avalon Grand Panama, Panama City

Bananas Village Resort
Clear and tranquil waters, white sand, lush vegetation, friendly people.

Barcelo
Resorts for families, couples, and singles.
TripAdvisor Resort Reviews
Barcelo Playa Blanca Beach Resort, Farallon

Boquete Garden Inn, Boquete
Retreat to the charm of a quiet, riverside setting with beautiful Gardens and Mountain views.
Hotel Reviews: TripAdvisor

Hotel Costa del Sol, Panama City
242 elegant rooms that are comfortable "Junior Suites."

Caribbean Jimmy's Dive Resort
Beachfront Resort offering pristine vacation accommodation, scuba diving, sports fishing and adventure tours in Panama.

Las Olas Beach Resort, David
All-inclusive resort near David.
Hotel Reviews: TripAdvisor

Villa Romantica, Contadora Island
A private house now converted into a restaurant and a small hotel with a breathtaking view on the Pacific Ocean and the irresistible Cacique Beach.
Al Natural Resort, Bocas del Toro
Between jungle and sea, Al Natural Resort has created for you a comfortable and private retreat, perfectly integrated into the lush tropical environment.

Los Quetzales, Volcan Baru National Park
Cloud forest retreat.

Mangrove Inn Eco Dive Resort, Colon
Built over a shallow marine plain in front of a mangrove forest and fronting a coral reef. Only 5 boat-minutes from Bocas del Toro City, resort offers tranquility and relaxation like no other place in the islands.

Punta Caracol Acqua-Lodge, Isla Colon
An acqua-lodge in a totally virgin and natural environment.

Solarte del Caribe Inn, Bocas del Toro
Created to preserve both the rain forest landscape and cultural integrity of the native community on Solarte

Tropic Star Lodge, Darien
Cut out of the side of a mountain at the edge of the Darien Jungle on the Pacific coast of Panama.
Bahia del Sol, Bocas del Toro
House and room rentals.

El Limbo Hotels, Bocas del Toro
El Limbo offer the best options in location, quality and prices for you to discover this exotic and incredible archipielago. Base your stay on the main island (Colon Island-Bocas del Toro) in the hotel "El Limbo on the Sea", located in the center and constructed completely on the water, with a fabulous view on all the islands, or stay at "El Limbo on the Beach", our exclusive natural reserve (with its own beach and reefs), located in the island of Bastimentos.

Laguna Hotel, Bocas del Toro
Conveniently located on Main Street, just 150 ft from the ocean and two minutes from the international Bocas Airport.

Pargo Rojo Cabins, Bocas del Toro
Rustic style cabins at reasonable prices.

Posada Los Delfines, Bocas del Toro
Quality lodgings at a reasonable price.

Punta Caracol, Bocas del Toro
Aqua lodge - five cabins where you will have access to crystal clear waters from your private terrace.

Swan's Cay Hotel, Bocas del Toro
Located on the main street of Bocas.

Tierra Verde, Bocas del Toro
seven beautiful rooms and modern amenities such as Direct Tv and internet/fax connections.



Would you like your property listed? Click here for advertiser information.



Places to Stay

General Information
Photo Gallery
Map
Real Estate
Trip Reports
Links
Home