Home > Destinations > Panama
Commonly known as "one if the world's great crossroads," Panama is a curious blend of sophistication, colonial history and remote islands.
A great place to start a Panama adventure is in Panama City (population about 1.4 million). Among one of the most vibrant and colourful cities it offers non-stop nightlife, casinos, fine restaurnats, open air cafes and world class shopping. Dubbed the "the shopping centre of the Americas" excellent priced English bone china, Italian silks, French perfumes, Irish linens and Swiss watches can be found in the plazas and along the Via Espana, where elegant fashions and jewelry can be found.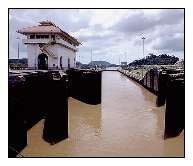 Panmanians love baseball and there's also horseracing, golf, sailing, waterskiing and powerboating.
Don't miss a visit to the tourist facility at Miraflores Locks for close-up look at the Panama Canal in operation.
A visit to the ruins of the old city (Panamá Viejo), sacked by pirate Henry Morgan in 1671, yields Panamá Viejo Museum, churches, cathedrals and fortifications from Panama's colonial and buccaneer days.
For a change of pace we recommend a visit to the tiny island of San Blas. Approximately a 30 minute flight from Panama City, San Blas is the home of the Kuna Indians who are famous for their molas - a decorative handsewn applique for their traditional blouse fronts. Molas can be purchased here or on the mainland.

San Blas also offers unforgettable snorkeling on secluded islands in pristine waters.
Even quieter is the ecotourism paradise of Coiba Island south of the city of David. This island is mountainous and concealed in rainforest. Coiba is teeming with life. You are likely to see flocks of macaws and parrots winging along lush green mountainsides. Frigate birds and pelicans gather by the hundreds, diving and feeding on massive schools of sardines along sandy beaches that are frequented more by sea turtles than human beings.

Coiba Island area has the largest coral reef in the Western Pacific and is considered one of the top places in the world for "big fish" diving. There is no accommodation on the island but tours may be available from local operators.