Home > Destinations > Haiti
We are saddened by the devastation caused by the earthquake in Haiti. We are concerned for those living and traveling there and wanted to provide you with this list of organizations currently working to provide aid and relief. We ask you to help if you can.

The American Red Cross
www.redcross.org

The Canadian Red Cross
www.redcross.org

The United Nations World Food Program
www.wfp.org

Partners in Health
www.pih.org

Medicins Sans Frontieres
www.msf.ca

The Salvation Army
www.salvationarmyusa.org

Action Against Hunger
www.actionagainsthunger.org

Project HOPE
www.projecthope.org

Haiti is for the adventurer. This is not the typical Caribbean hideaway. This is a land of striking contrasts and mystery. Plagued by political unrest for most of its history Haiti is now one of the poorest countries in the Western Hemisphere attempting to support a population of about 7.5 million.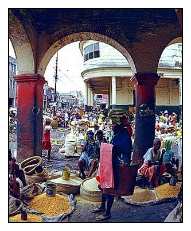 However, Haitians continue to search for peace and stability. Bypassed by vacationers because of its political and social problems the country is trying to rebound.
Located just 50 miles from Cuba and 100 miles from Jamaica, Haiti shares the island of Hispaniola with the Dominican Republic.
Located on the bay of the Gulf of Gonâve, Port-au-Prince is vast metropolis that spreads across the Cul-de-Sac Plain to the foothills of the Massif de la Salle. Home to some two million inhabitants, this city exhibits its lively ambience with colourfully painted tap-tap buses and flat-bed trucks and a bustling market.
The spirit and resilience of the people of Haiti is revealed in its history. Statues of national heroes, museums displaying interesting historic artifacts and murals of its people abound. Lovers of history will enjoy Fort Jacques, a cannon-stocked fort offering good views of Port-au-Prince harbour.
One of Haiti's most affluent areas is Petionville. Situated on a hillside overlooking Port-au-Prince, Petionville is the centre of hotels, restaurants and art galleries. From here, you can enjoy a fine view of Port-au-Prince.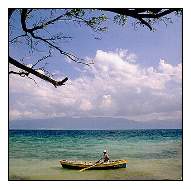 Close to Cap Haitien on the northern Atlantic coast are two of the Caribbean's most extraordinary buildings. The enormous fortress, the Citadelle, was buit by the Henri Christophe, the self-declared King of Haiti after the country gained its independence from France in 1804. The twelve-foot walls house dozens of cannons, a cannonball storage room and Christophe's tomb. The Sans-Souci Palace ruins conjur up evocative images of Christophe's desire to build a palace that would rival Versailles.
There are a few lovely palm-lined beaches, black-sand and powder-white sands. Haitians generally prefer cooler mountain settings than beaches. It has clear waters and offers a good setting for swimming, snorkelling and nature walks. Haitian crafts are excellent buys and, of course, its art is world-renowned for its vitality.
If you're adventurous, Haiti may be for you. Sporadic unrest does occur in Haiti and we strongly recommend that you consult the U.S. Department of State Consular Information Sheet prior to traveling.