Home > Places to Stay > Guatemala
Radisson Hotel and Suites Guatemala City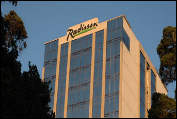 With a prime location in Guatemala City's financial and business district close to major offices and shopping centers, the Guatemala City Hotel offers the kind of warm hospitality, inviting atmosphere and top-notch services sure to please business and leisure travelers alike. Centrally located in Guatemala City's Viva Zona commercial district close to key office buildings, embassies, government offices, fine restaurants and such shopping centers as La Pradera. The Guatemala City Hotel is just five minutes from La Aurora International Airport.
Hotel Reviews: TripAdvisor
What's best in Guatemala City? Check out TripAdvisor's popularity index based on impartial reviews.

Aurora Hotel, Antigua
Atmospheric Bed & Breakfast hotel converted from a colonial-style private home.
Hotel Reviews: TripAdvisor

Casa Florencia Hotel, Antigua
Boutique hotel located in Antigua Guatemala, seven blocks from the Central Square (5-10 minutes walk), two blocks from La Merced Church and near sites of interest, internet cafes and coffee shops. All of rooms have a private bathroom (hot/cold water), closet with safety box and luggage rack, cable TV (60 channels). The first floor rooms are bordered by a small garden with lots of green plants and a fountain; while the second story rooms have a balcony with panoramic views of Antigua and three volcanoes in the distance (Agua, Fuego, Acatenango).
Hotel Reviews: TripAdvisor

Casa Santo Domingo Hotel, Antigua
Monastery themed five-star hotel; has banquet and event facilities, swimming pool, and other amenities.
Hotel Reviews: TripAdvisor

Chimino's Island Lodge, Chimino's Island
located in Punta de Chimino, on the beautiful Petexbat˙n Lagoon in the southeastern Peten, in Guatemala's jungle region. Chimino's Island Lodge offers 5 neat mahogany bungalows, each perfectly blended in the Jungle and several hundred feet away from each other, so you can enjoy your own private jungle and the overwhelming views of the lagoon.

Casa Santa Clara, Guatemala City
Located in the Zona Viva, with 14 rooms and a restaurant.
Hotel Reviews: TripAdvisor

Conquistador Ramada Hotel, Guatemala City
Offers accommodations, meeting rooms, restaurants, spa, and shuttle services.
Hotel Reviews: TripAdvisor

El Palacio de Dona Beatriz, Antigua
A sophisticated, high style, luxury hotel, is located in Antigua's best residential area just four blocks from the Art Gallery, Jade Museum, finest Restaurants, typical shops and furniture in town, but away from the commotion of the town centre.
Hotel Reviews: TripAdvisor

Holiday Inn Guatemala, Guatemala City
180 Deluxe Rooms and 10 Junior Suites with kitchenette, all decorated to enhance the feeling of comfort and tranquility for guests, with a choice of mountain or city view.
Hotel Reviews: TripAdvisor

Hotel Atitlan, Panajachel
One of Guatemala's elite cadre of fine hotels, is situated in picturesque Panajachel Solola. This location is the heart of Lake Atitlan's most ethnically authentic peoples, yet conveniently accessible to the most fashionable part of the Riviera.
Hotel Reviews: TripAdvisor

Hotel Casa Azul, Antigua
Located in the heart of Antigua, one hundred meters away from the cathedral and close to the most important tourist sites of the city.
Hotel Reviews: TripAdvisor

Hotel Ciudad Vieja, Guatemala City
Located in the main commercial, social and exclusive area of Zone 10, known as "La Zona viva", and very close to the most important places to go shopping or for a walk, was created as an exquisite combination of design, elegance, comfort and beauty, surrounded by a natural and ecologic atmosphere. Exclusively designed for those who travel for pleasure or business.
Hotel Reviews: TripAdvisor

Hotel Convento Santa Catalina, Antigua
Perfectly situated in the heart of Antigua at the base one of the most famous historic monuments of Antigua Guatemala, the Arch. The Hotel was an old convent built in the early 1600's, whose legacy is visible thoughout the hotel.
Hotel Reviews: TripAdvisor

Hotel Villa Antigua, Guatemala City
All-Inclusive resort hotel with its many attractions including Technology Museum and a research library for archeologists.
Hotel Reviews: TripAdvisor

InterContinental Hotels Real Guatemala, Guatemala City
Contemporary 15-story hotel in center of business and shopping district - 4 kms to Popol Vuh Museum, 6 kms to Cathedral Monument.
Hotel Reviews: TripAdvisor

Jungle Lodge, Tikal National Park
Bungalow houses with beautifully landscaped grounds; situated within the Tikal National Park; a short walk to the heart of Tikal.
Hotel Reviews: TripAdvisor

La Lancha Lodge, Tikal National Park
"Small property with ten sparklingly groomed rooms, a swimming pool, a dock for water activities in and around the lake, and a soaring open-air public space for dining and for enjoying the splendid view of the lake in the company of abundant bird life." Francis Ford Coppola's newest property.
Hotel Reviews: TripAdvisor

Mansion del Pensativo, Antigua
Romantic inn is conveniently located in this beautiful city, three blocks away from Antigua's central plaza, on a quiet side street that frames a stunning view of the dormant Agua volcano.
Hotel Reviews: TripAdvisor

Meson Panza Verde, Antigua
Established in 1986 as one of the first European style bed and breakfasts in Antigua, Guatemala. Ideally located at the quiet end of famous Fifth Avenue, it is a pleasant five minute walk from Antigua's main Plaza and Cathedral down a cobble stone street past wonderful ruins and delightful shops.
Hotel Reviews: TripAdvisor

Posada Belen, Guatemala City
"This small bed and breakfast on a quiet side street is exceptional..." Opinion of Fodor's Belize & Guatemala
Hotel Reviews: TripAdvisor

Posada de Don Rodrigo, Antigua
Charming, Evocative Inn comprised of several houses erected over 250 years ago.
Hotel Reviews: TripAdvisor

Posada Del Angel, Antigua
Suites, each with private bath, wood burning fireplace, and cable TV. Online reservation is available.
Hotel Reviews: TripAdvisor

Posada La Merced, Antigua
A Spanish-colonial style hotel in downtown Antigua. Open year-round, the posada offers affordable, comfortable and convenient rooms.
Hotel Reviews: TripAdvisor

Quinta de las Flores, Antigua
Small family owned hotel in Antigua, offering a relaxing experience amid some of the most beautiful gardens in Central America.
Hotel Reviews: TripAdvisor
Casa Capuchinas Bed & Breakfast, Antigua
In a spanish style home built in the heart of Antigua's historical conservancy with in-walking to shops, restaurants and museums.

Casa Madeleine Bed & Breakfast Spa, Antigua
6 lovingly rooms, cable TV, Internet access, master suite, espectacular volcano views, spa services, steam room, whirpool, massage therapy, facials, manicure, pedicure and much more. Beautiful gardens, delicious buffet breakfast.
Hotel Reviews: TripAdvisor

Casa Manen, Quetzaltenango
A quaint Bed & Breakfast located in Quetzaltenango, the heart of the Guatemalan Highlands. First class hotel offers ambiance and hospitality found nowhere else in Guatemala.

Lion's Inn, Antigua
A charming colonial-style bed and breakfast, located inside a working coffee plantation in Antigua Guatemala's best residential area. Ideally placed at the entrance of town, it is within walking distance from the center of Antigua with its famous square, international restaurants, upscale boutiques, and unique artisan shops. The Lion's Inn enjoys the tranquility of the surrounding park and plantation.
Hotel Reviews: TripAdvisor

Posada San Antonio, Antigua
3 Bed & Breakfast Apartments for your convenience.


What's best in Guatemala City? Check out TripAdvisor's popularity index based on impartial reviews.



Would you like your property listed? Click here for advertiser information.



Places to Stay

General Information
Photo Gallery
Map
Real Estate
Trip Reports
Links
Home