Home > Destinations > Grenada
Lush, green volcanic mountains and some magnificent beaches are two of Grenada's many claims to fame: the island's central mountainous spine rises to 2,756 feet in Mt. St. Catherine, and one look at Grand Anse beach, one of the finest in the Caribbean will entice you straight into the clear, blue water.
Situated in the lower extremes of the Windward Islands, Grenada greets its guests with the aroma of exotic spices like cloves, vanilla, nutmeg, mace and cinnamon.
Until 1650, Grenada was left more or less alone, but in that year a French expedition from Martinique bought extensive land on the island from the indigenous Carib inhabitants.
With its panoramic views, cultural and historical experiences, pristine natural environment, and a warm and friendly people, it's easy to understand why the British and the French competed so long for this little gem of an island.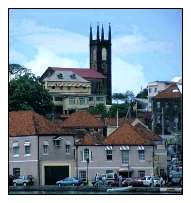 Many consider Grenada's capital of St. George's to be the most picturesque port city in the Caribbean.
The town is built on green hills (the original Spanish colonists' called it "green hills," after their own city of Granada, Spain) and surrounding the magnificent harbour. Several of the attractive restaurants and shops are on the Carenage, the open harbour front. The narrow cobblestone streets of St. George's are lined with buildings dating back to French and British times.
Don't miss the St. George's vibrant Saturday morning market. Here Market Square becomes a meeting point for many as vendors sell their fruit, vegetables and spices. At the nearby fish market, fishermen sell fresh mahi mahi, wahoo, snapper, tuna and many other freshly caught fish.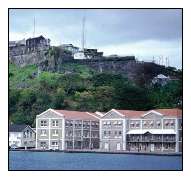 Reminders of Grenada's rich and sometimes dramatic history can be found all over the island. Carib's Leap is a point in the north of the island, where the Carib Indians leapt to their death rather than submitting to the invading French army.
Fort George, built by the French between 1706 and 1710, this fortress's inner courtyard now houses the island's police headquarters. A trek up the fort is well worth it, the reward of a spectacular view of the harbor awaits you.
Grenada's history is well represented at the Grenada National Museum. Housed in an old French Army barracks, there are displays of artifacts from pre-Columbian through post colonial times, exhibits of island flora and fauna, and you can even see a marble bathtub that once belonged to Josephine Bonaparte.
Nature lovers will enjoy a variety of parks and reserves. The Grand Etang National Park and Forest Reserve is a rainforest with great hiking trails. You can see gommier tress, orchids and the Grand and Etang fern. You may also be lucky enough to see two of its inhabitants - the nine-banded armadillo and the mongoose.
The beach at Levera National Park is a turtle hatching ground and its lagoon attracts many migratory birds.
Among the many natural attractions at La Sagasse Estuary are spectacular coral formations, unspoiled beaches, cactus groves and a small salt pond - home to many types of birds.
Many visitors choose to spend time on the sister isles of Carriacou and Petit Martinique. Carriacou, population 7,000, is known for its relaxed atmosphere, numerous dive sites, powder white beaches and nature trails.
Visitors to the "Isle of Spice" can enjoy all the thriving rainforests, cascading waterfalls, blue lagoons, coral reefs, and secluded powder-white beaches that enchanted European colonists centuries ago and so many today.
Grenada Guide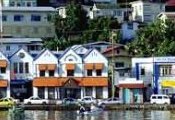 The Grenada Guide is your complete guide to the beautiful and unforgettable Grenadian islands. Our articles will provide you with all the traveling essentials - including information on local attractions, beaches , restaurants, and more. Because planning a trip to a tropical destination can leave you wondering about weather , our site provides an overview of expected temperature and rain patterns that you can view according to your arrival date. To further improve your itinerary, find flights, cruises, and lodging accommodations from the guide as well.