Home > Destinations > Martinique
Known as "a little bit of France in the Caribbean," Martinique exudes a distinctly French feeling in may ways. In the excellence of its cuisine, the chic of its women, the beauty of its language.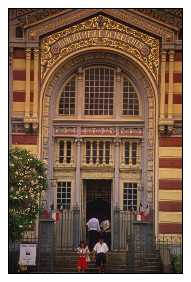 Yet Martinique has a character all its own, an endearing West Indian warmth and friendliness in its personality, a special spice in its music and dance, its local dishes, and its way of life. This is a destination with style.
A great start to your visit to Martinique is the its fascinating capital, Fort-de-France. This is a place easy to explore on foot.
Among the sightseeing attractions is the city's architectural masterpiece, the Bibliothèque Schoelcher, or Schoelcher Library, a Romanesque-Byzantine gem built more than 100 years ago for the Paris Exposition of 1889, then dismantled and shipped to Martinique mosaic by mosaic. Named for Victor Schoelcher, the French abolitionist whose work helped end slavery on the island in 1848, it sits just off La Savane, the city's Central Park. La Savane's gardens make for nice wandering and picture taking.
The edge nearest the bay has a market for crafts, straw goods and souvenirs. The park boasts two impressive statues: one of Marie Joséphe Rose Tascher de la Pagerie, who was born in Trois-Ilets across the bay, and made history as Napoleon's Empress Josephine, the other of Pierre Belain d'Esnambuc, the French nobleman who claimed the island for France in 1635.
Two years later the first settlers built a wooden fort on the small peninsula south of La Savane, which was enlarged in 1640 and became the very strategic Fort Saint-Louis. A French naval post today, it can be visited Monday to Saturday.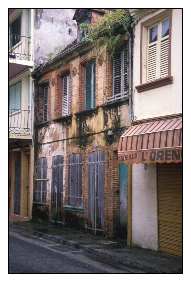 The capital's narrow balconied streets, lined with shops and restaurants, each lead to a pleasant discovery: The Cathedral of Saint-Louis, built and rebuilt seven times over the centuries (most recently in 1895), topped with a 200-foot steeple and ad-mired for its iron framework, decorated transepts and magnificent organ; the Palais de Justice, whose four neoclassical buildings surround a statue of Schoelcher.
Close by attractions are Le Théatre Municipal, the former city hall, is used now for theatrical productions and art shows; the Musée Départemental with archeological finds from prehistoric times; the Musée Régional d'Histoire et d'Ethnographie which retraces the history and the ethnography of Martinique, the "Gen Lontan" Museum where one discovers the island through period costumes, and the Rivière Madame with its busy colorful fish markets.
Out of Fort-de-France travel north along the Caribbean coast to St-Pierre, the "Paris of the West Indies" until 1902 when Mont Pelée volcano erupted and turned it into a New World Pompeii. A museum on the spot vividly portrays the tragedy. In 1990, St-Pierre was designated a Ville d'Art et d'Histoire. The drive from Fort-de-France takes about an hour, but stops along the way are recommended, including the fishing villages of Case-Pilote, Bellefontaine, and especially Carbet.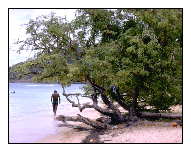 Carbet, whose seaside houses a number of delightful seafood and lobster reseat-rants, is the last village before St-Pierre. This is where Columbus landed in 1502 and where Gauguin lived and painted in 1887. The exact spot at Anse Turin that was the famous artist's home is now the Paul Gauguin Museum which is open daily.
Half an hour past St-Pierre is Habitation Céron, a 17th-century sugar estate re-stored by the Marraud des Grottes family, boasting impressive vegetation and huge, centuries-old trees. To the north is Le Prêcheur, the last village along this Caribbean coast, known for hot springs of volcanic origin and the Tomb of the Carib Indians. Inland is Morne Rouge, a pretty town with a cool climate and site of MacIntosh Plantation, which cultivates Martinique's best-known flower, the anthurium, and houses the new Musee Améerindien, a wealth of ceramics, archeological pre-colombian artifacts, and Amerindian ethnological objects left by noted historian, Jacques Petitjean Roget.
Nearby is La Trace, a dazzling route through the rain forest. This mountainous north is studded with banana and pineapple plantations, avocado groves, cane fields, and such lovely old island inns as Leyritz Plantation and Habitation Lagrange.
Other noteworthy communities in the north include Ajoupa-Bouillon, an enchanting flower-lined town with a nature trail called Les Ombrages and, nearby, the Gorges de la Falaise, mini canyons along the Falaise River that lead to a waterfall; Grand'Rivière, a picturesque fishing village constantly braving the fierce Atlantic Ocean.
As rich as the island's history is the island's soil, whose sugar cane gives birth to rums considered among the best in the world. They were awarded the prestigious French label "appellation d'origine contrôlée" previously only reserved for French cheeses and wines. Distilleries abound and all of them welcome visitors for a sampling of their product.
At Sainte-Marie in the north is the St. James Distillery whose Musée du Rhum has long been a popular attraction.
At Le FranÇois on the east coast, is the charming 18th-century Domaine Acajou, site of the March '91 Summit Meeting of Presidents Bush and Mitterrand, and boasts a fine contemporary museum as well. Other distilleries include Bally, Depaz, Dillon, JM Crassous de Medeuil, La Mauny, Neisson and Trois-Rivières.
Martinique is called the "Isle of Flowers," and stops at some of its floral gardens can be very memorable experiences. In the north are MacIntosh Plantation with its incredible variety of anthuriums, and Les Ombrages, a botanical path that makes a fine introduction to tropical flora. In the suburbs north of Fort-de-France is one of Martinique's most beautiful flower gardens, Jardin de Balata.
A must-see sightseeing attraction in the south is the historic offshore landmark, Diamond Rock, a sort of Caribbean Gibraltar rising 600 feet from the sea and used by the British in 1804 as a sloop of war. Well worth a visit is Le Diamant, its beachside market, and two interesting sites nearby, the often-photographed, colorful Maison du Bagnard (Convict's House) and the Maison du Gaoulé, scene of the first Martinican insurrection, circa 1717.
For waterspots lovers there is boating, Martinique is a paradise for sailors, whether on boats rented at hotels by the hour, or on yachts, bareboat or crewed.
Fishing aficionados will appreciate the opportunity to catch dolphin, kingfish, bonito, barracuda and tuna.
Golfers will be excited by the challenge of the magnificent 18-hole Robert Trent Jones Sr. architetected course, the Golf de l'Impératrice Joséphine, at Trois Ilets, approximately 20 miles from Fort-de-France.
Martinique also offers great hiking; treats to discover are a tropical rain forest, a world-famous volcano, alpine peaks (or pitons) and rocky hills (or mornes), and wide stretches of virgin beach, especially in the southeast. Tennis, scuba diving and horseback riding are also readily available.
Martinique Guide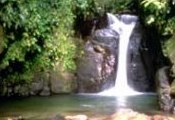 The Martinique Guide is your complete guide to one of the most fascinating vacation destinations in the Caribbean. With details about everything from Martinique's dining options to its exotic beaches, the articles in our guide can provide you with the information needed to begin planning a truly relaxing visit. Our activities and attractions sections can help you to build your ideal itinerary - with listings of Martinique's most bustling ports, rental companies, and hotels . You can search for lodging by quality rating, style, and amenities. You can even learn at which hotels you'll find the best restaurants, so you can enjoy some of the local flair that makes Martinique a perfect getaway spot.