Home > Destinations > Grenada & Carriacou > Places to Stay > Carriacou
Paradise Inn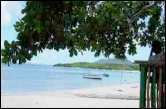 Paradise Inn is a family owned hotel.

Paradise Beach is an unspoilt 'secret' that will make you feel like you have Paradise to yourself. You are more likely to meet a local fisherman on the beach than another tourist, and we can guarantee that you won't be hustled and nagged on the beach to buy this or that. It's up to you to tell us what you desire, and we will provide.

We look forward to having you as our guests. Website
Hotel Reviews: TripAdvisor

Caribbee Country House and Nature Preserve
Hotel Class:


Small, intimate inn, perfectly placed, with open jalousies that frame banana fronds and a deep aqua bay.
Hotel Reviews: TripAdvisor

Silver Beach Resort
Hotel Class:

An elegant but informal hotel on the beach awaits you in Carriacou.
Hotel Reviews: TripAdvisor
Down Island Rental Villas
Villa and house rentals on Carriacou.
Bogles Round House
A secret hide-away with an unusually artistic atmosphere amid splendid views and lush tropical foliage. Cottages and restaurant.
Hotel Reviews: TripAdvisor

Bayaleau Point Cottages
Four family-owned and operated cottages are situated on the eastern shore of Carriacou overlooking the entire chain of the Grenadines.

John's Unique Resort
Self-contained apartments equipped with private balconies.
Hotel Reviews: TripAdvisor

Carriacou Grand View Resort
Nature has provided a unique setting for this breathtaking 14-room apartment building with swimming pool.
Hotel Reviews: TripAdvisor

Green Roof Inn
Five charming guestrooms and a waterfront restaurant and bar with a marvelous views of the Caribbean Sea.
Hotel Reviews: TripAdvisor

Kido Ecological Inn
Located in a quiet oasis on a forested ridge on the northwest coast of Carriacou with private access to the beach and reef and a short distance from Anse LaRoche Beach and High North Nature Park. Wildlife, whale/dolphin watching, hiking, cycling, snorkeling, diving and turtle monitoring can be arranged.

Seaclusion Suites
Secluded accommodation on Carriacou with down island views of the Grenadines. Solar powered self contained modern suites.
Hotel Reviews: TripAdvisor

Tamarind Cottage Carriacou
Very private vacation rental.