Home > Places to Stay > The Bahamas > Exuma
Exuma Villa rentals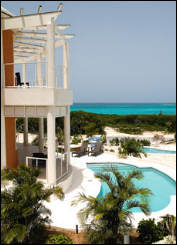 50% OFF SPECIAL ON ALL RENTALS UNTIL THE END OF 2009!

Oceania Heights offers villas with large terraces offering incredible ocean views. This is truly a premier setting to indulge in exquisite island living. Each villa has a private swimming pool, spacious rooms, high-end furnishings, air conditioning, satellite TV, washer and dryer, jetted tub and all the amenities of a first class resort. Your private villa will be fully-staffed including maid service, guard and gardeners, with a cook upon request. It is one minute from a beautiful three-mile beach and is nestled next to a bird sanctuary.

This is the perfect recipe for relaxation and also where Johnny Depp stayed while filming in the Bahamas!
Web: www.oceaniaheights.com - Email: info@oceaniaheights.com - Phone: 242-345-0187
Coconut Cove Hotel
Hotel Class:


Intimate and romantic island get-away...an oasis nestled in palm groves and lush tropical flora.

Four Seasons Resort Great Exuma
Hotel Class:


Tropical beauty beckons to the secluded Exuma cays - quiet calm just a short flight from Miami. Crystal-clear waters for diving, an open-air spa and an oceanside golf course designed by Greg Norman in an undiscovered and unforgettable Four Seasons paradise.
Hotel Reviews: TripAdvisor

Hotel Higgins Landing
An award winning eco-resort and the only hotel on beautiful Stocking Island, Exuma, Bahamas. In 1997 the resort was awarded ISLANDS Magazine's Ecotourism Award, naming it the best eco-tourism resort in The Bahamas and one of the four best in the Caribbean.
Hotel Reviews: TripAdvisor

Palm Bay Beach Club
25 well appointed beachside cottages and hillside villas.
Hotel Reviews: TripAdvisor

Peace and Plenty
Hotel Class:


Whether it's action and adventure you're looking for, or total relaxation.
Hotel Reviews: TripAdvisor

Regatta Point
an all suites hotel, is located on a point of land that is almost totally surrounded by the exquisite, crystal blue waters of Elizabeth Harbour.
Hotel Reviews: TripAdvisor

Staniel Cay Yacht Club
Hotel Class:


For those who treasure tranquility and want to "leave it all behind."
Hotel Reviews: TripAdvisor
Fowl Cay
A private island with 3 rental cottages and a hilltop clubhouse with spectacular 360 degree view in the spectacular Exuma Cays, Bahamas. 17' runabout with 65 H.P. motor included. Swimming, Tennis, Snorkeling and much more.
Private Island Reviews: TripAdvisor

Grand Isle Villas
Magnificent golf and ocean front community of seventy-two seaside Caribbean resort villas situated on the highest point within the 500-acre Emerald Bay Resort located on Great Exuma Island
Hotel Reviews: TripAdvisor

Sampson Cay Club
Enjoy beautiful beaches, incredible sunsets and good company at Sampson Cay Club.
Hotel Reviews: TripAdvisor

Seabean Cottage
Lovely house located on the water just one mile east of Georgetown.

Sugar Beach Villa
The ultimate in Caribbean luxury, unsurpassed in the world for beauty and privacy.

Turtle House
Open and cool house, built around a flower filled courtyard and surrounded on three sides by the sea.
Coral Gardens Bed & Breakfast
Enjoy the beach side pleasures of a holiday at the fully refurbished Bahamas Bliss Apartments.
Hotel Reviews: TripAdvisor



Would you like your property listed? Click here for advertiser information.



Places to Stay

Hotel Reviews
General Information
Photo Gallery
Map
Real Estate
Trip Reports
Links
Home