Home > Places to Stay > The Bahamas > Eleuthera
Jasmine House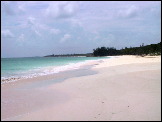 Escape to a romantic stone villa built to catch the breeze. The estate is 80 acres of lush tropical beauty joined with miles of pink sand beach. Indulge yourself with ocean scented breezes and exotixe flowers surrounding your screened veranda. Relax on soft lounges while watching the changing blues and greens of the ocean before you. Think cool stone walls, high ceilings, French doors, large airy rooms and romantic king 4 poster with gauzy netting. In the back garden, you can revive yourself showering under the deep blue sky while enjoying the scarlet bougainvilla climbing up the old Banyan nearby. The completely private shower has room for two with hot and cold water. Jasmine is the best rome base your island adventures.

Amenities include: satellite TV, radio/CD/tape, air conditioning, ceiling fans, fireplace, phone, full kitchen, microwave, dishwasher, outdoor pool, outdoor shower, washer, dryer, iron/board, BBQ grill, beach towels, beach chairs, beach umbrella.

Phone : 864.646.5676
Email : gail@jasminehouse.com
Cocodimama Charming Resort
Twelve rooms in three colorful cottages
Hotel Reviews: TripAdvisor

The Cove Eleuthera
Hotel Class:


Secluded oceanfront inn located on 28 dramatic acres of rolling hills, coral cliffs and private sandy beach.
Hotel Reviews: TripAdvisor

Quality Inn Cigatoo
On a hill overlooking the village of Governor's Harbour; walking distance to the beaches of the Atlantic Ocean and the Caribbean.
Hotel Reviews: TripAdvisor
Get our lowest online rates, guaranteed, at choicehotels.com


Rainbow Inn
Small, friendly, informal inn by the sea and specializes in personal service. The inn's location on the island makes it an ideal base from which to explore the rest of Eleuthera. Within minutes of the inn are some of the island's top tourist attractions: Surfer's Beach, the Famous Caves of Hatchet Bay, Glass Window Bridge, the Pineapple Fields of Gregory Town, plus our own Secret Beach.
Hotel Reviews: TripAdvisor
Bahama Sunset
A romantic island retreat set on rugged cliffs overlooking the warm, peaceful waters of the Caribbean. Sleeps 4.

Conch'd Out
Situated on top of a small point, Conch'd Out has beautiful ocean views from every room. Luxurious 2-bedroom. Private beachfront. Spectacular view.

Casa Carib
If your frazzled nerves need pampering, or if a romantic holiday is in order, Casa Carib is for you!

Palmetto Point Light
The only charted Lighthouse vacation home in the Bahamas. Stroll miles of beautiful romantic pink sand beach, away from the tourist crowds. Three-bedroom, two bath.

Villa de Palmas
Very private, beachfront, Mediterranean villa. Situated on a hilltop surrounded by palms and tropical flowers. Every room affords a magnificent panoramic view of the azure sea. Available for rental throughout the year.
Adventurer's Resort
Quiet, laidback hotel offers peace and tranquility in a rich and exquisite island environment.
Hotel Reviews: TripAdvisor

The Duck Inn
Three self-catered, luxury cottages with gardens looking on to Governor's Harbour, the ocean bay and picturesque Cupid's Cay.
Hotel Reviews: TripAdvisor

Pineapple Fields
Spectacular views.
Hotel Reviews: TripAdvisor

Click here for Places to Stay on Harbour Island.



Would you like your property listed? Click here for advertiser information.



Places to Stay

Hotel Reviews
General Information
Photo Gallery
Map
Real Estate
Trip Reports
Links
Home