Home > Places to Stay > The Bahamas > Andros
Small Hope Bay Lodge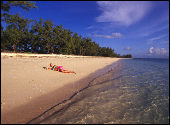 Totally All Inclusive -- Since 1960 Small Hope Bay Lodge has been hosting scuba divers, snorkelers, fishermen, eco-tourists, and relaxers at our out island hideaway on the beach. Small Hope Bay Lodge situated on Andros Island just a short boat ride from the world's third largest coral reef, the diving is nothing less than spectacular. But what really sets Small Hope apart is its unique heritage, its simple and friendly ambience, and something from the soul that simply cannot be cloned or imitated.

We have 21 rooms in cottages right on one of our two beaches. Being an ALL INCLUSIVE property means that your beachfront accommodations, all meals, drinks, bar drinks, evening conch fritter hors d'oeuvres, Discover Scuba or snorkeling lesson, use of sea kayaks, bikes, windsurfers, self guided nature trails, Escape sailboat, hot tub on the beach and all hotel taxes are included in your rate. A la carte items include Scuba Diving, Snorkeling trips, Bonefishing, Reef and Deep Sea Fishing, Guided Eco-Trips, Massage, and the Boutique.

Four of our cottages are 2 bedroom / 1 bath cottages which are great for families. Scuba Diving, Snorkeling, Wedding & Honeymoon packages are available. Our motto is Rest, Relaxation, and Rediscovery. Come see for yourself...
Check out our special!
Website
TripAdvisor Reviews

Andros Lighthouse Yacht Club & Marina
Hotel Class:


Located at the junction of Fresh Creek and the Atlantic Ocean. Andros Lighthouse Yacht Club and Marina is prominently marked by its namesake a 107 year old lighthouse now the logo of Andros Island, Bahamas.
Hotel Reviews: TripAdvisor

Emerald Palms by the Sea


Intimate Oceanfront Resort situated on 5 miles of palm-lined beach.
Hotel Reviews: TripAdvisor

Kamalame
Fanned by palm breezes and kind smiles, the relaxed elegance of a West India plantation style lives on here.
Hotel Reviews: TripAdvisor

Seascape Inn
Nestled along the white sand beach of quiet and picturesque Mangrove Cay - lie five cabanas with private decks.
Hotel Reviews: TripAdvisor

Tiamo Resort
Evironmentally sensitive resort for the ecotraveler. Providing every comfort in the most pristine of tropical settings. Situated on its own secluded beach amidst coconut and sea grape trees, are ten individual bungalows, privately spaced and raised up to greet the incoming sea breezes.
Hotel Reviews: TripAdvisor



Would you like your property listed? Click here for advertiser information.



Places to Stay

Hotel Reviews
General Information
Photo Gallery
Map
Real Estate
Trip Reports
Links
Home