Home > Destinations > Trinidad & Tobago
Trinidad & Tobago - one country, two contrasting islands. Lying just off the coast of Venezuela, this is the most culturally diverse of its peers, with a landscape and natural history as rich and varied as the faces of its many distinct heritages.
A melting pot of cultures with a non-stop zest for life, this is a land of music and festivals, where Carnival, calypso, steel pan music, and the limbo dance were born.
The islands were first settled many centuries ago by Amerindians, and were then stumbled upon by Columbus, settled by the Spanish and French, then conquered by the British.

Both islands' populations are mostly descended from the Africans who were imported to work the plantations, and the Hindu Indians who replaced them after emancipation. Portuguese, Chinese, Lebanese, and Syrian traders followed.
Trinidad is rich in the architecture, art, fashion, food, festivals, and music derived from this fusion of cultures. Port of Spain boasts great diversity from the exuberant Carnival to the serene Divali, from roti to callaloo, and to the Christian churches side-by-side with Islamic mosques and Hindu temples.
A highlight of Port of Spain is the 200-acre Queen's Park Savannah where you will find manicured lawns, enormous trees, flower beds and lily ponds as well as a sports area that transforms itself into the centre of Carnival excitement beginning after Christmas each year.

At the western end of the Savannah are the opulent mansions known as the Magnificent Seven. Built in the 19th century, the most interesting buildings are the Moorish-style White Hall, once the office of the Prime Minister and the Stollmeyer Castle, modeled on the medieval castles on the Rhine.
There are some not-to-be-missed historical treasures too on Trinidad; the Cathedral of the Immaculate Conception - a curious mix of Italian marble, Irish stained glass and British ironwork; Fort Chacon - an 18th century Spanish fort; and Fort Picton - erected by the British in the 18th century boasting one of the finest Martello towers in the Caribbean.
Trinidad too is a bird watchers paradise. The 200-acre wildlife sanctuary - the Asa Wright Nature Centre - has winding trails through its forest inhabited by more than 75 of the island's 400 bird species.
Blessed with miles of empty palm-fringed beaches, coral reefs, and a mountainous rain forest teeming with wildlife, Tobago offers visitors the typical tranquility expected in a laid-back Caribbean island.
If you're looking for things to do on Tobago you won't be disappointed. You'll find excellent scuba diving and snorkeling at Buccoo Reef, a marine park and land reserve off the Caribbean coast. Golfers can play a round at St. Andrews Golf Course in Moka which was founded in 1892.
These islands offer visitors everything. The excitement of the cosmopolitan city Port of Spain to the natural beauty of Tobago's beaches, waterfalls and forests make these islands a memorable vacation destination.
Trinidad Guide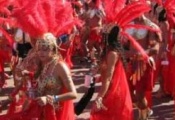 The Trinidad Guide is a complete directory to all you need to know to find yourself between two captivating Caribbean islands. Both Trinidad and Tobago's unique cultures and history are represented in our numerous articles on this destination's personality. If considering a tropical vacation, our sections on the local basics - including restaurants, clothing, and nightlife - can help you make important decisions before you begin your trip to Trinidad and Tobago. Also, don't miss our weather section, detailing the rain and temperature patterns you can expect upon arrival, and also our lodging section, helping you to choose and book a hotel that's right for you.