Home > Destinations > St. Lucia > All-Inclusive Vacation Specials in St. Lucia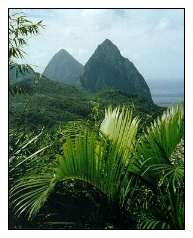 Located in the Eastern Caribbean, St. Lucia is so beautiful it is no surprise that the British and French fought over the island for 150 years. Rising 3000 feet out of the water are the imposing twin Pitons - a Caribbean wonder.

St. Lucia is a lush Caribbean island with abundant rainforests, many thousands species of wildlife, waterfalls, mineral baths and centuries old banana and cocoa plantations.

Discover all these wonders and more from your St. Lucia all-inclusive vacation resort. Relax in your luxurious accommodations at Sandals and enjoy meals at fine restaurants with unlimited premium drinks.

Relax on the beach or if you're looking for something a little more active, snorkel or scuba dive or play a round or two of golf on the St. Lucia golf course.

Wedding and honeymoon packages are also available.

Check out the Sandals all-inclusive specials:



St. Lucia All-Inclusive Vacation Specials at Sandals from Turquoise.



Pitons photo (top) © Jon Lowe, 1997.