Home > Destinations > St. Eustatius (Statia) > Places to Stay
Kings Well Resort
Hotel Class: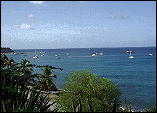 Always a cool breeze and a warm smile...

A small resort featuring a spectacular view of Oranje Bay and only a minute walk to the beach. Operated more as a semi-private villa catering to our hotel guests exclusively for breakfast and lunch. Each room has it's own fridge and cable t.v. as well as balcony. Some rooms are also air conditioned, although it's seldom needed. Website
Hotel Reviews: TripAdvisor


The Old Gin House
A faithful reconstruction of an 18th century building that once housed a cotton gin. Built of old bricks used by sailing ships as ballast, this historic landmark is surrounded by bougainvillea and palm trees in a tropical garden setting. Nineteen rooms featuring king size beds, private baths, cable TV, air conditioning and direct dial telephones.
Hotel Reviews: TripAdvisor

Statia Lodge
Splendidly located on the south side of the Island, in a tropical garden with a panoramic view of the Caribbean Sea. For your peace and convenience, Statia Lodge has just 8 Hibiscus bungalows for dual occupancy and 2 Bougainvilla bungalows for four people, great for families. Our beautiful fresh water swimming pool & club house overlook the ocean. Each well appointed bungalow has a private terrace with ocean view, bedroom with a fan and a fully equipped bathroom.




Would you like your property listed? Click here for advertiser information.



Places to Stay

Hotel Reviews
General Information
Photo Gallery
Map
Real Estate
Trip Reports
Links
Home