Home > Destinations > St Barts
Chic! Civilised! Charming!...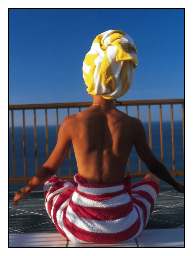 Just eight square miles in size, this little French West Indies island lies just east of St. Martin.
St. Barts is a destination for the rich and famous, this island is never crowded. Lovely coves, pristine beaches make Saint-Barthélemy the choice of many looking for French sophistication in the Caribbean. Exclusive villas abound as do expensive hotels and restaurants.

The quaint harbour town of Gustavia (the name a throwback to Sweden's only Caribbean colony - in the 18th century) is well worth a visit to experience it's uniquely French ambience. Restaurants and shops are especially Gallic in nature.

St. Barts has magnificent beaches, some 32 golden sandy of them. Recommended is Colombier Beach which can only be reached on foot. The 40 minute trek gives you great views of the island.
The fishing village of Corossol is home to the private collection of the Inter Oceans Museum displaying some 9000 seashells from around the world.
For divers and snorkelers St. Barths is a must - the reefs of Les Saintes and Gros Islet can often be rewarding.

You can get to St. Barts either by air or by ferry from St. Martin or Sint Maarten.