Jamaica
Places to Stay
Things to Do & See
General Information
Photo Gallery
Map
Links

Turquoise Net
Your Guide to the Caribbean
& Beyond
Home
About Turquoise Net
Photo Album
Maps
Weather
Featured Accommodations
Places to Stay
Things to Do & See
Classifieds
Tourist Boards
Online Guides
Internet Resources
Links
Facts & Figures
Airlines
News & Media
Cruises
Art & Music
Real Estate
Tour Operators
Search

Interact with Us...
Caribbean Forum
Trip Reports
Vote for Best Beach
Quiz
Keep Us Up-to-Date
Contact Us

Tools...
Book a Trip
Book a Flight
Currency Converter

Book Store...
From Hunter Publishing
Jamaica Adventure Guide Book
Jamaica Alive!
Jamaica Landmark Visitors Guide
Jamaica - A Taste of the Island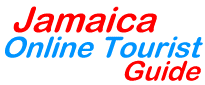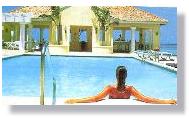 Welcome to Jamaica

Probably the ideal place for a tropical vacation, Jamaica is considered by many to be the most beautiful of all the Caribbean Islands.

Combining so many of the images that go to make an ideal holiday: lushly covered mountains, waterfalls cascading to beautiful beaches, exotic flowers are just a hint of what Jamaica has to offer.

The major resort areas of Montego Bay, Ocho Rios and Negril abound with activity. Jamaica offers something for every kind of vacationer.

The island boasts spectacular expanses of white beach, palm-fringed coves and steep mountains covered in lush greenery. Surely one of the best developed islands touristically, Jamaica offers every type of activity and nightlife you could want…from tennis and scuba to piano bars and limbo shows.

The island is not renowned for its shopping, although diehard shoppers will find excellent buys in straw goods and the locally made rum.

Montego Bay on Jamaica's northwest coast is the classic resort centre and second largest city on the island. The bustling town of Ocho Rios has been a favorite of cruise ships. On the western tip of Jamaica you'll find laid-back Negril, with its dramatic black coral cliffs and world famous Seven Mile Beach. The ideal spot to take in some of the best sunsets in the world!

And don't forget Port Antonio, quieter than its more famous resort cousins and renowned for its focus on ecotourism. Probably the finest location for deep sea fishing, snorkeling in Jamaica's best preserved reefs, diving, bird and butterfly viewing, horseback riding and hiking.

At the opposite end of the spectrum is the capital - Kingston. This sprawling city of 700,000 is the political, cultural and business centre of the island. Every aspect of Jamaican life is on display here; the poor urban shanty towns, the downtown area markets, the once-magnificent Victorian buildings and the modern new office buildings of New Kingston.