Home > Destinations > Hawaii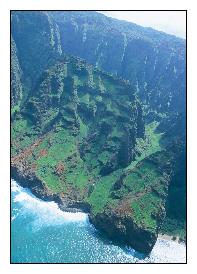 It's the most geographically isolated land mass in the world, anchored 2,000 miles from its closest neighbour as the figurative and literal "Crossroads of the Pacific."
Although voyaging Polynesians settled this chain of islands 2,000 years ago, it wasn't until 1778 - two years after the Unites Stars became a nation - before outsiders first discovered this mid-Pacific Mecca of the tropics.
Hawaii! Just the name alone invokes images of lolling about a wondrous land haven, sipping mai tai while lounging on the beach, or going for a quick dip in the warm and gentle Waikiki surf - even in January.
To people nationwide, it's the dream vacation, the favourite honeymoon spot and the destination often referred to as "America's Paradise."
Hawaii is so exotically beautiful, so culturally unique and so highly regarded by visiotrs with eqaul parts of fondness and reverence, that competing destinatiolns often hold it up as thye sdtandrad to bemeasured by. No other state is so closely associated iwth its nature, heritage, ancient trdaitions and ethinic diversity as Hawaii.
The six major lanfds of the ancient Polynesians called "the heavenly homeland of the north" - Kauai, Oahu, Mololai, Lanai, Maui and Hawaii's Big Island - have similar overall characteristics, but each presents a uniquley appealing vacation experience.
Kauai, the lush Golden Isle, is cloaked in brilliant shades of green.
Oahu is a vibrant centre of international commerce, and ringed by more than 100 world-renowned beaches.
Mololokai where nature has carved out a rugged island beauty all its own.
Lanai is renowned for how its seclusion and rustic beauty create a true "getaway" environment.
Maui no ka oi! This popular saying translates to Maui is the best!

Hawaii's Big Island, twice the size of all the other islands combined, is an enormous feast for the mind and senses.

Six incredible islands, six amazing experiences. Only in Hawaii.





Information provided by Hawaii Visitors and Convention Bureau.