Home > Destinations > Guadeloupe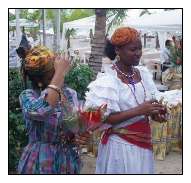 Undeniably French. Most of the visitors to Guadeloupe are French, arriving en masse to this picturesque butterfly island deep in the heart of the Caribbean. Guadeloupe shines among the family of Caribbean islands as an affluent and self-assured country with cosmopolitan flair bordered by beaches and coral reefs on one wing of the butterlfy and open lands with the fertile, volcanic peaks of the 30,000 hectare Parc National on the other.
The eastern wing, Grand-Terre, is dry, flat, and sandy with the best beaches in the country, which has led to the development of its many restaurants, casinos, resorts, bars and clubs. Don't forget to check out the local music phenomenon - zouk - an irresistable combination of Caribbean and African rhythms.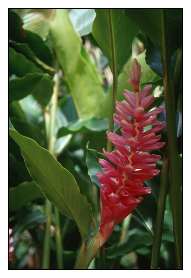 Basse-Terre, the western wing, is wild, wet, and mountainous, and though it once went largely unnoticed by visitors, it nowhosts streams of whale-watchers, hikers, divers and deep-sea anglers. Nature highlights include the Bras David Tropical Park where hardwoods such as gommier, marbri and sweetleaf mahogany grow.
Don't miss La Soufrière, the quietly active volcano and the highest point on the island. Divers and snorkelers will enjoy the Pigeon Island Underwater Park (Jacques Cousteau Underwater Resrve) where neon-coloured tube sponges and huge sea fans adorn the undersea walls and canyons.
The collection of small volcanic islands lying 7 miles south of Guadeloupe are The Saints. These islands, rich in history, afford stunning sunsets, world class fishing and a host of interesting local characters.
East of The Saintes is the island of Marie Galante. Sugar is an important ingredient to both the rum and the economy here. Great beaches too on the western shore.
Guadelpoupe is a working island with only about 10% of the island is supported by tourism, relying still on its sugar to drive its economy. At harvest time, the fields stir with workers cutting cane the old-fashioned way with machetes. Bringing together the best of its combined European and Caribbean heritage, Guadeloupe is an interesting mix of urban buzz and pristine scenery, suffused with an irresistible Creole flair.
Guadeloupe Guide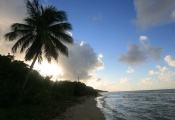 The Guadeloupe Guide is your comprehensive guide to a truly once-in-a-lifetime vacation. Guadeloupe's boundless opportunities may leave you feeling overwhelmed before you even begin planning your trip. But our guide can provide you with some of the most complete articles you'll find on Guadeloupe's incredible culture , local attractions, weather, and more. Visit our section on history , detailing the incredible past of Guadeloupe's two European-influenced islands. You can also search for the hotels that best suit your family, and check their availability before you book your stay.