Home > Destinations > Greek Islands
Boutique hotels? World class nightclubs, shops, restaurants? Deserted sand? Sleepy fishing towns? Yes to all of them, in Greece. It might be a cliché, but Greece - especially its multitude of gorgeous islands - really does still hold something for every kind of traveler.

The glories of Greece are hardly a well-kept secret: its islands were a draw for adventurous wealthier travelers way back in the Victorian era, and its beach scene was the earliest in Europe to be developed and marketed for mass-appeal package vacations.

There were excellent reasons for Greece's early popularity: ravishingly beautiful beaches, friendly and spirited people, tasty, fresh rural cuisine, and buildings and ruins documenting thousands of years of history. Greece is a country of enviable natural advantages.

Given that it certainly isn't an obscure, 'off-the-beaten-path' destination, it may come as a surprise that a visit to Greece can encompass remote, undeveloped beaches, mountains and forests, and very welcoming communities still untouched by touristy glitz.

With the ever-decreasing cost of long distance travel, many European holidaymakers have changed their habits and now journey to India or Thailand for their two weeks in the sun. This means a vast array of natural, cultural and recreational pleasures still exist away from the crowds.

The Greek mainland is home to busy and fascinating Athens as well as mountainous and wilderness areas and Europe's biggest gorge. Thinking of Greece, however, usually conjures images of islands, which make up more than one-fifth of the country's land mass. The many hundreds of isles within Greece's borders are remarkably distinct from one another.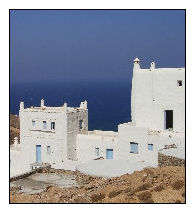 Island Greece falls into six chains. The Cyclades are probably the best known and the most archetypally 'Greek' of them all.

Santorini offers a dramatic volcano setting, black sand, and a developed tourist scene thanks to the many cruise ships that visit its port.

Mykonos has a happening and hectic gay scene, with expensive restaurants and clubs galore. Go to Naxos for charming people, white beaches and dunes, or Paros for idyllic tranquility. Tiny Siros is not as much of a tourist 'scene' as other Cyclades and is home to remote beaches and wonderful traditional music.

The Ionian group has an Italian flavour, and lush vegetation and classical architecture galore. Corfu, although heavily developed, still hides unspoiled and uncrowded beaches, and its capital, Corfu town, has seen a recent expensive facelift.

Paxos is known for its abundant flora and fauna and excellent olive oil. Kefalonia is off the tourist radar, and has dramatic cliffs and great local wine (and is the setting for the novel and film 'Captain Corelli's Mandolin').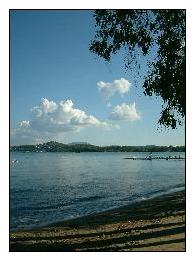 The Dodecanese are Greece's southeasternmost islands, situated close to Turkey. They are packed with classical ruins and great beaches, and summers are longer here: Rhodes - the biggest and busiest island - enjoys sunshine 300 days per year. Kos has good beaches and attractive little villages.

For low-key pleasures, The Northern Aegean islands are a good choice. Harder to access and less busy than other island groups, they are still quite provincial and traditionally Greek. Lesvos is a big island, famous for its olive oil and ouzo. Chios is a friendly island, with lots of beaches and medieval towns.

The Saronic Gulf islands are the closest to Athens, and therefore great for daytrips. Athenians think so too, so it's best to time your visit for weekdays. Hydra has attracted visitors for a long time but remains easygoing, with a lovely harbour.

The Sporades offer rich vegetation, fabulous golden beaches, and include Skiathos and Skyros - the latter offering excellent diving and fishing in its clear seas.

Crete is the second largest island in the East Mediterranean after Cyprus and has 1000 km of shoreline. Like so many Greek islands, it offers an impressive geographic range, with endless beaches, the Gorge of Samaria and mountains. For history buffs, the selection is wide, with palace remains from its Minoan civilization, as well as Byzantine, Venetian and Turkish sites. Cretan wine is famously good.


Photographs
top :: © Albo - Image from BigStockPhoto.com
middle :: © Albo - Image from BigStockPhoto.com
bottom :: © GezaIII - Image from BigStockPhoto.com



Places to Stay
General Information
Photo Gallery
Map
Real Estate
Trip Reports
Links