Home > Destinations > British Virgin Islands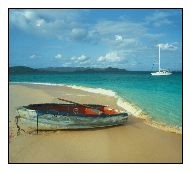 This chain of some 60 islands and cays, known as the British Virgin Islands (B.V.I.), has a distinctly nautical flavour. While some cruise ships visit the islands, you're more likely to see yachts. Sailors enjoy constant trade winds, short distances between islands, beautiful views and many sheltered coves where they can drop anchor. These are considered some of the finest sailing waters in the world.
This is also a paradise for scuba divers and snorkelers with beautiful the reefs, wrecks and clear waters off the islands to explore. In addition to the spectacular sailing waters and coral reefs that surround them, the British Virgins have calm and tidy towns, luxurious accommodations and gourmet dining. For many, it's the perfect island getaway.
Tortola, Virgin Gorda, Jost van Dyke, Anegada and Peter Island are the largest and most frequented islands. The natural beauty of these islands is spectacular. The volcanic origins of these islands produce contrasting colour tones of verdant land, turquoise sea and radiant white beaches.
Tortola (population 15,000) is a peaceful refuge of tropical, mountainous landscapes, seafarer's appeal and a distinct West Indian flavor. Tortola is serene, seductive, and free from crowds; buildings here can't be taller than the palm trees. The lack of direct flights from the U.S. and Europe restricts the number of visitors, but rewards those who take the extra "leg" with an island they very nearly have to themselves.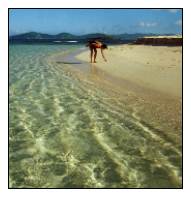 Tortola boasts white sand beaches and tropical rainforests that sit side by side on this 10-square-mile island. Visitors can choose among many isolated beaches, and then walk through undisturbed forests and preserved wildlife areas. The remains of the rainforest in Sage Mountain Park will delight nature lovers. Ferns, hanging vines, philodendrons as well as mahogany and white cedat tress abound.
Snorkeling, fishing, and all things aquatic are all close by. South east of Tortola, divers can explore the R.M.S. Rhone wreck, sunk by a hurricane in 1867, in the Rhone National Marine Park.
Virgin Gorda is the ideal retreat for those who dream of lounging on a nearly deserted tropical island. Over 20 secluded beaches and mountainous, preserved areas are the main attractions on this tiny island. Only 10 miles long and 2 miles wide, it's packed with scores of beautiful beaches and breathtaking landscapes. Not to be missed are Gorda's parks. The Gorda Peak Park boasts great hiking trails leading to an observation point on the wooded Gorda Peak, the highest point on the island. Little Fort National Park is a 30-acre wildlife sanctuary containing the remains of a Spanish fort. The Baths, a curious collection of vast rocks forming caverns, grottos and huge boulders makes it a fun place to explore.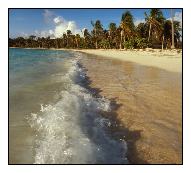 Jost van Dyke is known for its isolation and relaxed atmosphere. Life moves slowly on this island. Enjoy the idyllic beaches and friendly conversation at the beach bars and cafés.
Anegada, unlike the other islands in the chain, which are of volcanic origins, is a limestone and coral formation. The island is rimmed by reef making this a paradise for divers and bonefishing enthusiasts as well as beach lovers. A 1000-acre bird sanctuary is also home to a small colony of flamingos and ospreys, herons and terns.
By whatever means you visit the British Virgin Islands, expect a laid-back atmosphere with plenty of time to enjoy the scenery. But, as with most things perfect and luxurious, B.V.I. is not inexpensive. The islands' emphasis on small, upscale resorts and their desire to appeal to well-heeled travelers results in a relatively pricey paradise with an exclusive atmosphere.