Home > Places to Stay > Bonaire
Holiday Bonaire.com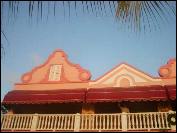 Looking for a holiday rental on Bonaire? Here you can find bed and breakfasts, apartments, lodgings, inns, bungalows and holiday rentals. And if you are interested in renting out your Bonaire holiday home, on Holiday-Bonaire.com you can list your property!

Bonaire is a small island located in the southern Caribbean, famous for its activities in the environmental preservation, in particular the preservation of the marine environment. With its stunning underwater scenery, Bonaire is ranked as one of the top three dive spots in the world. It's also is a good spot for snorkelling and windsurfing or to take a kayak tour in the mangroves. But you also can enjoy being on the beach or taking a swim in the beautiful turquoise Caribbean Sea.

Surf for further information to www.holiday-bonaire.com
Deep Blue View Intimate Resort


This small inn features laid-back luxury, privacy, space and service. You will enjoy 180-degree ocean views, pool, patio, lots of shaded hammocks and a giant telescope for star gazing. Ideal for divers and honeymooners. Breakfast included.
Hotel Reviews: TripAdvisor

Captain Don's Habitat
Hotel Class:


Unique diver-oriented community situated on a coral bluff, overlooking the sea.
Hotel Reviews: TripAdvisor

Divi Flamingo Beach Resort and Casino
Hotel Class:


Beachfront Resort located 4 miles from airport.
Hotel Reviews: TripAdvisor

Harbour Village Beach Resort
Hotel Class:


This luxurious, private, world-class resort and condominium village is surrounded by translucent blue water.
Hotel Reviews: TripAdvisor

Plaza Resort
Hotel Class:


5-Star resort, sprawled over twelve acres of Bonaire's coastline, has made a name for itself as one of the most exciting and luxurious vacation resorts in the Caribbean. Its 200 airy & spacious suites and villas provide outstanding comfort, enhanced by the superb service and amenities that you would expect at a world-class hotel.
Hotel Reviews: TripAdvisor

Sorobon Beach Resort
Hotel Class:


Situated on a beach on the Caribbean Sea, gently cooled by the constant trade winds. The shallow bay is protected by a barrier reef, ideal for swimming, snorkeling, sailing and windsurfing. The resort has the only nudist beach on the island, completely private, equipped by shelters made of palm tree branches and beach chairs. Guaranteed all-over sun-tanning! You will have a splendid view across the bay and sea, a constant changing of colors: green, deep-blue, turquoise. Enjoy the parakeets, flamingoes, sugarbirds, iguanas, all pure nature..
Hotel Reviews: TripAdvisor
Bellafonte Chateau de la Mer
14 spacious oceanfront apartments.
Hotel Reviews: TripAdvisor

BelMar Oceanfront Condominiums
Offering first class accommodations to scuba divers, sunseekers, snorkellers, birdwatchers, nature lovers, and especially the "get away from it all" vacation.
Hotel Reviews: TripAdvisor

Blue Divers/Palm Studios
Located near the center of Kralendijk.

Bonaire Town Homes
Nestled in fragrant tropical gardens. One- and two bedroom bungalows.

Bruce Bowker's Carib Inn
A resort dedicated to the needs and requirements of travelers who want a diving vacation.
Hotel Reviews: TripAdvisor

Bonaire Caribbean Club
A friendly, full-service resort on the West Coast. Cozy cottages and apartments are perched on a hill in an idyllic tropical setting, some with full Ocean View, surrounded by Bonaire's beautiful natural habitat.
Hotel Reviews: TripAdvisor

Buddy Dive Resort
Hotel Class:


Known for its casual atmosphere, personable staff, spacious accommodations and a dive center that has it all.
Hotel Reviews: TripAdvisor

Caribbean Court Bonaire
A splendid new resort on Bonaire offering divers affordable luxury accommodations including a dive/photo complex.
Hotel Reviews: TripAdvisor

Casa Oleander
Affordable vacation apartments on Bonaire.

Coco Palm Garden Studios & Apartments
Apartments are both located in the quiet residential area - Belnem - just 5 minutes from the Flamingo airport.

Dive-Inn Bonaire
Located in Kralendijk directly at the waterfront and has its own pier from which daily trips to "Klein Bonaire" are made. Specializing in programs for divers and snorkelers.
Hotel Reviews: TripAdvisor

Divers Paradise
7 one-bedroom apartments.

Eden Beach Resort
Five oceanfront buildings housing 38 condominium units and offering cozy studios and spacious two bedroom apartments at fabulous rates.
Hotel Reviews: TripAdvisor

Happy Holiday Homes
Situated at Punt Vierkant in the quietresidential neighborhood of Belnem. Each spacious and meticulously clean cottage is uniquely designed, comfortably furnished, and positioned to take advantage of the cool tradewinds.

Lagoen Hill Bungalows
Bungalows are situated halfway along the road to Lagoen Bay, in a peaceful rural area with a nice view across the hills.

Lions Dive Hotel
31 condominiums in buildings of two floors all facing the Caribbean. All bedrooms are airconditioned and have fully equipped kitchens, cable television, room safe and direct dial telephone.
Hotel Reviews: TripAdvisor

Ocean View Villas
Ocean View Villas offers all the comforts of home with all the ambiance of paradise.

Pamboe Apartments & Villa
Apartments are new and located about 5 minutes walk from the ocean side.

Port Bonaire
26 stylish villas overlook lush gardens and a private swimming pool.
Hotel Reviews: TripAdvisor

Sand Dollar Condominium Resort
Hotel Class:


Reasonably-priced and well-managed resort, located right on the water with a small private beach, has a simple idea--all of its guests, diver or non-diver, adult or child, should be able to make their own choices from a smorgasbord of activities and facilities.
Hotel Reviews: TripAdvisor

Sun Oceanfront Apartments
8 one, 4 two bedroom apartments and a Penthouse.

Windsurfer's Castle and Lac Bay Resort
The Resort and Castle are jointly owned and operated by and for windsurfers. The resort has an active atmosphere in a quiet, relaxed setting with emphasis on the camaraderie of fellow windsurfers.



Would you like your property listed? Click here for advertiser information.



Places to Stay
Hotel Reviews
General Information
Photo Gallery
Map
Real Estate
Trip Reports
Links
Home