Home > Destinations > Aruba
Idyllic beaches! Clear blue waters! Ocean breezes! And much more to enjoy...
Lying just 16 miles off the northeast coast of Venezuela, Aruba beckons visitors to its cloudless days filled with warm sunshine.
Relax on white sand beaches or enjoying windsurfing, snorkeling on the reef and deep sea fishing Aruba also offers excellent scuba diving among wrecks with visibility up to 30 metres.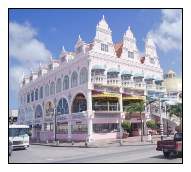 If you can get away from the beaches, head to Aruba's capital, Oranjestad. Here you'll find a pretty gabled Dutch-style boutiques. Shop duty-free for liquor, electonics, china and perfume.
History buffs will enjoy Fort Zoutman. Built in 1796, this is the island's oldest building. A strategic fortress in the British campaign against Curacao, the fort is now a museum of Aruban artifacts and historical pieces.
Nature lovers will be intrigued by the 170 species of birds found on the island. Look out for the bright-orange trupiaal and prikichi or little parrot.
For nightlife, try Aruba's casinos - some of the best in the Caribbean, or dine in one of the many fine restaurants on the island (particulary recommended is rijstaffel).
Aruba Guide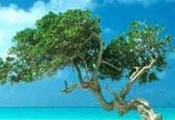 The Aruba Guide is your comprehensive guide to one of the hottest vacation spots in the Caribbean. Covering everything from weather patterns to local history, we'll provide you with the best tools to plan your family's vacation. Get tips on the most effective ways to maximize your trip, and learn valuable information about your destination, including articles about Aruba's rich and unique culture. Start by checking out our accommodations section to see how easy it is to book and research your Aruba vacation from our site.