The Turks & Caicos Islands

Places to Stay

Things to Do & See


General Information

Photo Album


Map

Links

Turquoise Net
Your Guide to the Caribbean


Home

About Turquoise Net

Photo Album

Maps

Weather

Featured
Accommodations

Places to Stay

Things to Do & See

Classifieds

Tourist Boards

Online Guides

Links

Facts & Figures

Airlines

Cruises

Caribbean News Update

Internet Resources

Search
Interact with Us...

Caribbean Forum

Trip Reports

Vote for Best Beach

Contact Us

Redefine your definition of relaxation!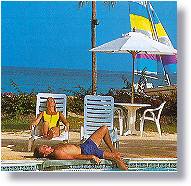 Set in spectacular turquoise seas, the islands of the Turks & Caicos are known for their untouched beaches, unpretentious hospitality and high standard of living.

Comprising of eight main islands and countless small cays and sandbars, the islands are one of the last British Crown colonies and seasoned travellers love the glorious beaches, tranquility and eternal summer climate.

Of the islands, Providenciales - commonly known by its nickname, Provo - is the most developed with a population of 6,500 in which 30 nationalities are represented. However, "developed" is a relative term, and visitors are charmed by the fact that the locals are hospitable by nature, not by training; and that the transportation infrastructure is, well, the road running from one end of the island to the other. With its North American amenities & clean, clear air, Provo is a favorite with families.

As well, watersports enthusiasts, especially divers, are enchanted by the clear waters, first class walls, wrecks and plentiful marine life. Rounding out the attractions of Provo are the 18-hole golf course and the casino and it's spectacular Grace Bay beach - seven miles of incredible sand and sea.

Of the other inhabited islands, Grand Turk is the most developed - again a relative term! The capital Cockburn Town is a delightful representation of island life and still preserves the laid back attitude of the islands.

Salt Cay, seven miles southwest of Grand Turk is the home to seven hundred islanders. Once a thriving salt-raking settlement, the island now boasts a couple of hotels and a quiet lifestyle.

East Caicos was once a site of sisal and cotton plantations is now uninhabited. Its sixteen mile long beach on the north coast is one of the spectacular in the region.

Middle Caicos, is the largest island and has 500 inhabitants living in the two settlements. Once famous for its guano industry, the main occupation is now working for the government.

Just a short skip from Middle Caicos is the island of North Caicos. A few small signs of development now, but its pristine beaches are still a draw to this island. Be sure to check out the flamingo colony on Flamingo Pond near Bottle Creek.

West Caicos is also uninhabited now. Spectacular diving - many say the best in all of Turks and Caicos Islands - and the beach on the northwest coast are highlights of the island.






Changes/Errors? Keep Us Up-to-Date
© 1996-2000 Turquoise Systems Group.
All rights reserved.