Home > Destinations > St. Lucia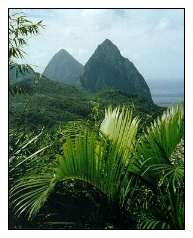 From the twin, sugar-loaf peaks of the Pitons to picturesque fishing villages; from world-class resorts to comfortable inns; from sulphur springs to waterfalls and rain forests; St. Lucia will never fail to amaze you.

Sightseeing highlights include Castries, the capital with its bustling market; Marigot Bay, locale for the enchanting " Dr. Doolittle" the village of Gros Islet with its Friday night street party; Sulphur springs and the dramatic waterfall near Soufriere; and historic Pigeon Island.

A delight for those interested in ecotourism, its dramatic twin coastal peaks, the Pitons, rise up 2,000 feet up from the sea, sheltering magnificent rain forests where wild orchids, giant ferns, and birds of paradise flourish. Brilliantly-plumed tropical birds abound, including endangered species like the indigenous St. Lucia parrot. The rainforest is broken only by verdant fields and orchards of banana, coconut, mango, and papaya trees.

Those looking for a traditional beach vacation will not be disappointed though. Enjoy crystal clear and warm waters and white sand beaches. The island's steep coastlines and lovely reefs also offer excellent snorkeling and scuba diving.

St. Lucia is a delighful mix of French Creole customs and English tradition. The islanders speak a distinctive patois which you will hear everywhere.

Explore St. Lucia - one of our favorite Caribbean destinations!

Photo © Jon Lowe, 1997.



Places to Stay
General Information
Photo Gallery
Map
Real Estate
Trip Reports
Links

Recommended Reading
St. Lucia Landmark Travel Guide