Vue Pointe Hotel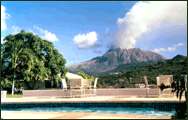 Most unusual and popular cottage-style hotel on a very unspoiled and unexpected island. The hotel is Beautifully situated on a hillside above Old Road Bay, encompassing a mile-long black sand beach which is ideal for walking, jogging and swimming. The beach is a 60 second stroll from the Lobby. Each and every room enjoys an amazing view of the steaming Soufriere Hills Volcano which awakened in July 1995. The hotel offers excellent service and is personally managed by the owners. Facilities include a freshwater swimming pool, two asphalt tennis courts, a gift shop, a free library, a busy beach bar and more! Website
Hotel Reviews: TripAdvisor
Tropical Mansion Suites
This beautiful hotel, opened in December 1999, is a symbol of hope for the regeneration of Montserrat. With mountain and sea views and an invigorating tropical breeze, it is located within easy reach of the ferry port, heliport and Little Bay beach.
Hotel Reviews: TripAdvisor
Rose Hill Guest House
Set in a lush tropical garden, 10 minutes from the ferry or heliport, this beautiful home offers 2 rooms with twin beds, private patio, cable TV, in a family atmosphere and includes breakfast. Car rental available.

Travellers Palm Montserrat
Travellers Palm Montserrat is a friendly B&B with spectacular 180 degree views of the Caribbean including Redonda and Nevis. Close to all ameneties with superbly designed rooms all on suite with private entrances. Rates include Continental breakfast and transfers.

Turtle Bay Apartments
"Paradise at an easy price." Two apartments located in the gorgeous Woodlands area of the island. Views of mountains and the Ocean, sit by your own private pool in awe of the amazing sunsets. Stroll around luscious private gardens of coconut, banana, orange, and guava trees, or enjoy a BBQ by the mango trees. Easy access to restaurants, bars, the famous Woodlands Bay beach, markets, stunning scenery and the world-renowned friendliness of the islanders, it really is the holiday of a lifetime!



Would you like your property listed? Click here for advertiser information.