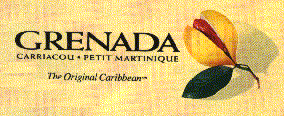 Beneath the Surface
Grenada Dive Sites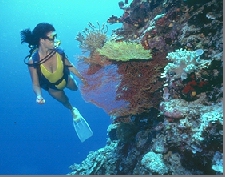 Natural Walls
Happy Valley
A natural wall with quantities of soft corals, gorgonias, sea whips, etc. It starts in a forest of brown coral at 20 feet, leading to a wall that shelves down to 90 feet. For the observant, there is an encrusted admiralty anchor. When the tide is right, a pleasant drift dive to Dragon Bay.
Dragon Bay
A wall dive starting in the sands of Dragon Bay and ending in Molinère. Deep channels of volcanic rock rise from a sandy bottom making it suitable for beginners, along the top , and advanced along the bottom of the wall. There is black coral to be found from 45 feet, as well as a mass of black gorgonians with frequent sightings of groupers, morays and angelfish.
Flamingo Bay
This wall has a prolific fish life including shoals of Creole wrasse, yellow chromis, grunts and jack knife fish lead down the wall to 90 feet where there are grouper, jacks and rays to eb seen. The wall itself is encrusted with whip coral, an assortment of sponges and sea fans. In the shallower parts of the reef black seahorses have been sighted.
Halifax Bay
An extended wall with canyons and two swim-through caves where barrel and other sponges exist.
Black Coral Wall
As the name suggests, there is a lot of black coral, some as shallow as 40 feet.
The Mounds
A series of pinnacles close to the wall. There is a constantly changing panorama of fish including an occasional tarpon.
Reefs
Boss Reef
There are three main dive sites on this extensive reef which stretches from the Red Bouy to Point Salines. It is the largest dive site in the area as well as the furthest out to sea. Mostly gentle drift dives and on eis likely to swim through vast shoals of Creole wrasse and chromis. The topography changes with the coral but the top of the reef is about 20 to 30 feet. On all three of these dives one will often see the blue rain of a descending school of Creole wrasse.
1 The Hole starts in sand bars then descends down a slope to 50 feet where the elusive green moray might be seen. Further along, you will come to the hole, a frequent hang out for barracuda.
2 The Valleys of the Whale where hills of coral contrast with canyon floors of sand concealing shoals of grunts, yellow chromis and occasional Spanish hogfish. Thre are also clumps of pillar coral. This is the place where a whale was sighted cruising in 60 feet of water with its child - a one in milllion chance.
3 Forests of Dean offers vast expanses of soft brown coral "trees" that hide shoals of tropical fish. In the sand patches you can find rays, conch and octopus. On the surrounding coral reefs there are frequent cleaning stations (look for fishing hanging head down).
Molinère
This reef is ideal for snorkelers but for for the diver there are canyons and valleys that descend to 30 to 40 feet with a variety of smaller reef fish including jacknifes and spotted drums.
Grand Mal Reef
A shallow, gently sloping reef garden with schools of goat fish and large porcupine fish.
Spice Isle Reef
In 20 to 50 feet, water contains a sloping wall with valleys. There is also a sandy area nearby which is something of a nursery for the reef fish. In each clump of rock there are several small fish of different species, as well as the occasional octopus hiding in holes obviously too small.
Whibble Reef
A drift dive for the advanced diver accustomed to dealing with a strong current. The water carries you swiftly along the reef, with small sand sharks, barracuda, and larger grouper browsing among the coral heads.
Channel Reef
A shallow reef that drops off to form a deep-water entrance to St. George's Harbour. Turtles, lobster and a variety of soft corals provide a backdrop for a large collection of encrusted anchors from many ships that have called at St. George's over the years.
Wrecks
Bianca C
A 600 foot cruise ship which sank in 1961 and now lies on a sandy plain in 160' of water. This is a dive for the experienced diver because there is sometimes a strong surface current which can reach down to 50-60 feet. With the top decks at 90-120 feet, you have 14 to 17 minutes of diving (using a computer). The top decks have compacted especially in the last year, but there is abundant fish life including turtles, starfish, schools of jacks and barracudas.
Buccaneer
A 42 foot two masted sloop sank 18 years ago after it had been stripped. Now only the superstructure lies on its side in 80 feet of water, making it ideal for photography.
Three Wrecks
A cargo ship that sank in St. George's Harbour (in fact one wreck cut into a number of pieces). This wreck is home to many angel fish and sting rays and rests on a sandy floor at about 40 feet down. The other one quarter of the wreck lies on Grand Reef. There is often a strong current running which makes it rarely dived.
Quarter Wreck
This is the other part of Three Wrecks. It lies on the edge of Grand Reef (which has been overfished in recent years). You can the bouys of the fish pots on the way to Whibble and Bianca C; nevertheless, there are some nice coral formations and larger schools of fish in the deeper parts as you start the descent towards the sandy plain on which the Bianca C lies.
Carriacou Dive Sites
Kick 'em Jenny
This site offers excellent visibility of about 100 feet and is a favourite of area dive masters. Rare and plentiful coral and marine life can be seen here. The site is often combined with the area around Isle de Ronde in a two-tank dive.
Sandy Island
Extensive reefs lie just offshore, ranging to a maximum depth of 70 feet. Many fishes and turtles populate this area. An excellent night dive.
Sister Rocks
Just off Point Cistern and Jack Iron Point. A great dive to 100' with spectacular walls. large rocks and many barracuda. Because strong currents are often present, this is a dive for experienced divers only.
Pago das Garden
Close to Frigate Island with an amazing array of coral and plentiful fish life. Depths range form 40-80 feet.
Twin Sisters
Not to be confused with the Sister Rocks of Point Cistern, this is one of the most spectacular dives in the Grenadines with walls and drop-offs descending to 180 feet, plus a mysterious cavern. The depth and strong currents make this a dive for experienced divers only.
Mabouya Island
This island just off Hillsborough Bay offers a variety of interesting reefs and abundant fish life including shards, rays, eels and turtles.
Saline Island
The currents make this an ideal drift dive offering the chance to see extensive reef formations.
Jack A' Day
Depth from 20 feet at the reef-top to 60 feet at the reef-bottom. An excellent spot for beginners and night-divers.
Sister Rocks
Great dive up to 120 feet. Various reefs, spectacular walls, large rocks, barracudas, turtles or sting-rays. The current is sometimes strong. A place one never gets tired of.
Mayreau Garden
Depth between 60 and 70 feet. Soft and hard coral gardens and untouched reef-life; plenty of schools of fish. Another excellent place for drift diving.
Mayreau Wreck
The wreck of a small gunboat from World War I at 30 feet. Beautiful coral formations and reef-fish; recommended for underwater photography.
Horse-shoe Reef
A drift-dive at approximately 90 feet along an extensive reef.
---

Grenada Home Page