Home > Destinations > British Virgin Islands > Places to Stay > Tortola
Blue Escapes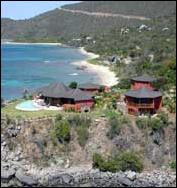 Blue Escapes has been named "Best Villa Agency for the British Virgin Islands" by Conde Nast Traveler Magazine for 2007 and 2008. We offer intimate knowledge of the islands and villa properties to ensure guests an exception villa experience. We also offer personalized services which include arranging villa provisioning, personal chef service, spa treatments, dinner reservations, activities, day trips, and more.

Blue Escapes offers villa rentals on Anguilla, Anegada, Grand Cayman, Grenada, Jamaica, St. Barth, St. Croix, St. John, St. Martin, St. Thomas, Tortola, Turks and Caicos and Virgin Gorda. Website

Phone : 512-472-8832 or toll free 800-556-4801
Email : info@BlueEscapes.com
Fort Recovery Estate Villas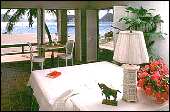 Magnificent Sunsets, Superb Panoramic Views, and Cool Breezes

One of Tortola's most sought after Private Luxury Villas on the Beach Not Hillside. Spectacular 3-4 bdrm beachfront home, 6-8 persons $560-$797/nt., Luxury 1-2 bdrm seaside villas $160-$522/nt. Deluxe package $1995 for two (April 15th to Dec 17th) and $2810 for two (Dec 17th to April 14th). Each villa has a Patio, Living Room, Kitchen, Bedroom, Bath, AC, TV, and Housekeeping daily. The Resort has a Fresh Water Swimming Pool, Dock, Chef, Boat Trips, Gym & Spa Services. Romantic week package - $1995 for two (2) includes - Villa, Jeep, 3 Dinners ea., Boat Trip, Massages, Manicure/pedicure, Yoga & Tax.

Featured Discovery's Travel Channel, Starred by Fodor's and awarded triple diamond by AAA.
Call 1(800) 367-8455 (wait for ring); pH (284) 495-4467 Fax: 284-495-4036
e-mail: ftrhotel@surfbvi.com. Website
Limin' House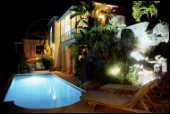 Located on the lush West End of Tortola, set amidst jasmine and bougainvillea, Limin' House awaits you.

This luxury three bedroom villa overlooks Soper's Hole and Marina with outstanding views to St. Thomas, St. John, Norman Island and Little Thatch. Close to shops, beaches, restaurants, bars, boat rentals, scuba charters and ferries to other islands. The house is equipped with quality furnishings and appliances providing a luxurious, yet relaxing, ambiance. There are many private patios and balconies for viewing the sunrises and sunsets or just swinging in a hammock and catching a snooze. The property is professionally landscaped and maintained. Concierge/caretakers are available to help with your plans and familiarize you with the home. Your privacy, however, is completely respected and protected. You will be assured of a memorable vacation.
e-mail: liminhouse@hotmail.com.
Fort Burt Hotel
Hotel Class:


Small informal hotel constructed on the site of a 300-year-old restored Dutch-English fort.
Hotel Reviews: TripAdvisor

Frenchman's Cay Hotel
Hotel Class:


Nine spacious private villas set on twelve very private acres on the windward side of Frenchman's Cay.
Hotel Reviews: TripAdvisor

Hodge's Creek Marina Hotel
28 rooms and 5 suites. Comfortable air-conditioned accomodations for vacationing tourists, charter guests, business travelers and others who enjoy a marina atmosphere.

Hotel Castle Maria
Hotel Class:

Small three-story hotel overlooking Road Harbour, 5 miles from airport.
Hotel Reviews: TripAdvisor

Jolly Roger Inn
'JR' as it is affectionately known throughout The Caribbean, is a lovely, casual five-room Inn and restaurant, located at the entrance to Soper's Hole overlooking Frenchman's Cay, St. John, Little Thatch and St. Thomas.
Hotel Reviews: TripAdvisor

Lambert Beach Resort
Nestled in a lush tropical amphitheater sloping toward the sea to one of the Caribbean's most beautiful beaches.
Hotel Reviews: TripAdvisor

Long Bay Beach Resort & Villas
Hotel Class:


Cottage Colony situated on a 50-acre estate sloping down to a mile-long beach on the North Shore.
Hotel Reviews: TripAdvisor

Maria's by the Sea
Conveniently located in Road Town along the shore of Road Harbour, within walking distance of most major shops and offices.
Hotel Reviews: TripAdvisor

Moorings-Mariner Inn
Hotel Class:


Informal Yachting Hotel situated on Wickham Cay II Peninsula, at Road Harbour and the Sir Francis Drake Channel.
Hotel Reviews: TripAdvisor

Myett's Hotel
Nestled among lush tropical foliage - located on the beach of romantic Cane Garden Bay.

Nanny Cay Hotel & Marina
Hotel Class:


Charming forty room hotel nestled in a tropical oasis garden setting in the heart of Tortola's favourite marina.
Hotel Reviews: TripAdvisor

Prospect Reef Resort
Hotel Class:


On the south side of Tortola, an informal, environmentally friendly, 130 room village style resort featuring a private harbour and offering a range of oceanfront accommodations with a tranquil atmosphere and a wide variety of activities and services.
Hotel Reviews: TripAdvisor

Sea View Hotel
Hotel Class:


Small, Pleasant Hotel situated on the waterfront with views of Road Harbour & Sir Francis Drake Channel, a short walk from town.
Hotel Reviews: TripAdvisor

Sebastian's On the Beach Hotel
Hotel Class:


Charming 26 room hotel located on a luxurious, white sand beach in Little Apple Bay on Tortola's North Shore. Offering spectacular ocean views, two bedroom luxury suites feature 20'-30' private balconies, marble and mirror baths, kitchen with refrigerators, etc.
Hotel Reviews: TripAdvisor

Sugar Mill Hotel
Hotel Class:


Set in a lush tropical garden and just steps from the sea, the Sugar Mill is the perfect place to relax. Twenty one rooms are set among the restored ruins of a 17th Century sugar plantation.
Hotel Reviews: TripAdvisor

The Tamarind Club
Hotel Class:


Caribbean beach resort hotel in the British Virgin Islands with pool, swim up bar and restaurant located next to Josiah's Bay Beach on Tortola.
Hotel Reviews: TripAdvisor

Treasure Isle Hotel
Hotel Class:


Overlooking the Sir Francis Drake Channel.

Village Cay Resort Marina/Hotel
Hotel Class:


Located in Road Town. A small luxury hotel, a 106 berth full service resort marina, a poolside bar and a waterside restaurant.
Hotel Reviews: TripAdvisor
Areana Villas
Offers a variety of villas from simple to elegant.

Belmont House
Nestled on a private, wooded, tranquil estate located at the westerly end of Tortola, overlooking Smugglers Cove Beach. Excellent for honeymooners and families.

Breeze Haven
6 Bedroom luxury villa perfect for groups, families and business retreats.

Cane Garden Bay Beach House
Caribbean villa beachfront house vacation rental on the ocean.

Dolphin Villa
Three bedroom villa with four bathrooms, swimming pool.

Icis Villas
One of Tortola's most relaxing vacation retreats.

Indigo House
Two-storey, beach-house bungalow located on one of the best soft sand beaches in Tortola.

Limeberry House
One of the most popular villas in the BVI.

Limin' House
One of Tortola's most spectacular villas.

Oleander House
3 bedrooms. 3 Bathrooms. Stunning views.

Palm Grove Villa
Elegant 2 bedroom villa located in Belmont Estates.

Serendipity House
Guest house style villa on beautiful Josiah's Bay.

Summer Heights
A private Caribbean villa, nestled on the southern slopes of Tortola.

Villa Beach House
Relax right on one of the world's most beautiful, lush, tropical beaches in Tortola.
Agape Cottages
Six spacious fully furnished one and two-bedroom apartments with stunning sunset vistas.
Hotel Reviews: TripAdvisor

Beef Island Guest House
Comfortable, cozy, bed and breakfast located on Trellis Bay, Beef Island.
Hotel Reviews: TripAdvisor

Coconut Point Vacation Villas
Five one- and two-bedroom villa/apartments on Carrot Bay.
Hotel Reviews: TripAdvisor

D & E Vacation Home
Nestled atop scenic Soldiers Hill are two fully furnished, one and three bedroomed apartments.

Elm Beach Suites
Located directly on the beach with just sea grape trees separating you from the water.
Hotel Reviews: TripAdvisor

Heritage Inn
Ideal for couples and families.
Hotel Reviews: TripAdvisor

The Lighthouse Villas
ne of the best locations in all of Tortola located directly on Cane Garden Bay.
Hotel Reviews: TripAdvisor

Mongoose Apartments Guesthouse
Six tastefully furnished one bedroom apartments. Each apartment has a private balcony, living room, fully equipped kitchen, bedroom and bathroom. Nestled within lovingly landscaped grounds, rock walls and lush vegetation.
Hotel Reviews: TripAdvisor

Rainbow Gardens
Offers you more that just a splendid view and a one of a kind holiday apartment.

Turtle Dove Lodge
Three, secluded cottages.
Hotel Reviews: TripAdvisor



Places to Stay

Hotel Reviews
General Information
Photo Gallery
Map
Real Estate
Trip Reports
Links
Home