Beneath the Surface
In 1989, Skin Diver magazine described Belize as "one of the western Caribbean's premier dive destinations, "praising its unspoiled waters and easy access." For the beginner, diving around San Pedro, Caye Caulker, Placencia, and Hol Chan Marine Reserve will provide more than enough variation in underwater scenery and marine life. But the more experienced diver or snorkeler will probably want to explore areas that have not suffered as much habitat damage at the hands of commercial fishermen and tourists.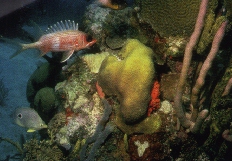 There are many small species of fish, sponge, and coral in the more well traveled areas, but such larger and more timid creature as turtles and grouper are not seen often. San Pedro and Caye Caulker are good places to find boats, escorts and instructors.
To experience the best of what Belize has to offer, such as the viewing of deep-water gorgonians, black coral forests, and the most exotic tropical fish, the underwater explorer has three basic options. First, one may elect to head for one of the more remote islands hotels or resorts. Good choices include one of the several tourist operations on the Turneffe Islands, Glover's Reef, Lighthouse Reef, or South Water Caye. Second, one may sign on with one of the live-aboard dive boats shuttling among Belize's many uninhabited islands and isolated reef structure. A third, one may decide to charter a boat individually or as part of a larger group so as to have maximum flexibility in destination and schedule. Any of the three can be easily accomplished with the help of a local travel agent, dive shop or major hotel.
Belize's reef is a fabled fairyland. Words cannot adequately describe the wondrous, ever-changing world of underwater Belize, the languorous, sometimes breathless silence and the extraordinary colourful nature of its inhabitants: the living corals, the crabs, shrimp and lobster, the conch in its elegant shell and fishes in unending shapes and sizes. One of the richest ecosystems on the planet, Belize's reef is punctuated by scores of beautiful islands, sand bores, patch reefs, and various underwater structures that are home to hundreds of animal and plant species, including 220 types of fish and untold hundreds of invertebrates. So rare and exquisite is this habitat that the United Nations has proposed preservation of the reef as a World Heritage Site, arguing that its deterioration or disappearance would result in "a harmful impoverishment of the heritage of all nations of the world."
---

Return to Belize Home Page